Scopus
Web of Science СС
Previous issue (2021. Vol. 17, no. 3)
Included in Scopus
Powered by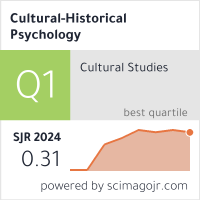 Vasilyuk F.E.
Prayer-Silence-Psychotherapypp. 52–56
1421
Rubtsov V.V.
Social Interaction and Education: Cultural-Historical Contextpp. 14–24
3117
Hoziev V.B.
Tool-Mediation within Cultural-Historical Theory and its Practical Implicationspp. 25–36
1824
Valsiner J.
Culture, Development, and Methodology in Psychology: Beyond Alienation through Datapp. 37–50
1143
Zinchenko V.P.
The Principle of Active Rest in Thinking and Actionpp. 57–68
1188
Meshcheryakov B.G.
Psychometric Approach to Child Animismpp. 70–86
963