Previous issue (2020. Vol. 16, no. 4)
Included in Scopus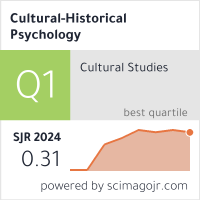 On the Dialogical Nature of Psychotherapeutic Experience

986
Kopyev A.F.
PhD in Psychology, Professor at the Individual and Group Psychotherapy Department at the Faculty of Counseling Psychology at, Senior Researcher at the Psychological Institute of the Russian Academy of Education, Moscow State University of Psychology & Education, Moscow, Russia
The author reviews the different types of psychotherapeutic experience — just like they exist in everyday life, regardless of the moment of its special cultivation within the organised activity of a psychotherapist or a consultant. He distinguishes between two types of the experience, depending on its origin: impressive and expressive. As the author puts it, spontaneous forms of psychotherapeutic experience are based on a fundamental ontological need for 'the other' which is a non-specific condition of al organised forms of psychotherapy. The dialogical character of communication in psychotherapeutic process creates a kind of inner — natural — precondition that allow psychotherapeutic phenomena to occur, regardless of therapist's professional attainments.
Keywords: psychotherapy, psychological counseling, "unintended psychotherapy", examples from literature and history, "Self" and "Other", M.M. Bakhtin, marketing character, E. Fromm, dialogical paradigm
Bahtin M.M. Estetika slovesnogo tvorchestva. M., 1979.
Bahtin M.M. Problemy poetiki Dostoevskogo. M., 1979.
Vorob'eva L.I. Dialog i kommunikaciya // MPZh. 2006. № 2.
Kop'ev A.F. Mezhdu svobodoi i neobhodimost'yu: k metodologii kratkosrochnogo psihologicheskogo konsul'tirovaniya // Voprosy psihologii. 1996. № 4.
Kop'ev A.F. Vzaimootnoshenie «Ya-Drugoi» i ego znachenie dlya prakticheskoi psihologii // MPZh. 1999. № 2.
Fromm E. Imet' ili byt'? M., 1990.
Gutheil Th.G, Havens L.L. The therapeutic alliance: Contemporary meanings and confusions // Int. Rev. Psychoаnal, 1979.Vol. 6.