Previous issue (2021. Vol. 17, no. 2)
Included in Scopus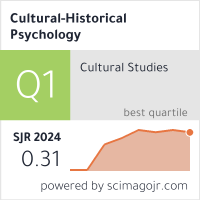 A Cultural-Historical Approach to the Range of Creativity Problems

1264
Nowadays an approach to researches of creativity matches the Vygotsky's ideas to a greater degree. L.S. Vygotsky reasons that analytical methods connected to elements' analysis makes evident the necessity of synthetic study of creative abilities and giftedness. Psychology had been moving towards this approach for the XIX—XX centuries.
Keywords: methodology, by elements approach, unit of analysis, creativity, personality, motivation
Column: Discussions and Discourses
Bogoyavlenskaya D.B. Psihologiya tvorcheskih sposob-nostei. M., 2002.
Vygotskii L.S. Sob. soch.: V 6 t. T. 1. M.,1982.
Vygotskii L.S. Sob. soch.: V 6 t. T. 2. M., 1982.
Druzhinin V.N. Psihologiya obshih sposobnostei. M., 1995.
Pasternak B. Izbrannoe. M., 1965.
Teplov B.M. Problemy individual'nyh razlichii. M., 1968.
El'konin B.D. Vvedenie v psihologiyu razvitiya. M., 1994.
Yurkevich V.S. O «naivnoi» i «kul'turnoi» kreativnos-ti // Osnovnye sovremennye koncepcii tvorchestva i odaren-nosti / Pod red. D.B. Bogoyavlenskoi. M., 1997.
Guilford J.P. The Nature of Human Intelligence. NY, 1967.