Previous issue (2021. Vol. 17, no. 1)
Included in Scopus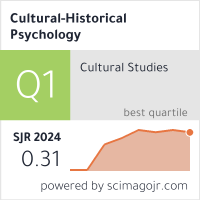 Using L.S. Vygotsky's and A.R. Luria's Ideas in Helping Children with Learning Difficulties: Analysis of Effectiveness

2322
Kamardina I.O.
Senior Researcher at the Laboratory of Learning Difficulties and Attention Deficit Hyperactivity Disorder, Moscow City Psychological and Pedagogical University, Moscow, Russia
e-mail: kamardina@mail.ru
The paper describes results of a two year research on effectiveness of neuropsychological approach to helping children with severe learning difficulties. The authors compare the results of normative, experimental and control groups and show the effectiveness of psychological treatment based on Vygotsky - Luria methodology.
Keywords: neuropsychology, learning difficulties, remedial/developmental work, L.S. Vygotsky, A.R. Luria
Column: Empirical Research
Ahutina T.V., Ignat'eva S.Yu., Maksimenko M.Yu. i dr. Metody neiropsihologicheskogo obsledovaniya detei 6—8 let //Vestnik Mosk. Unta. Seriya 14. Psihologiya. 1996. 2.
Ahutina T.V., Manelis N.G., Pylaeva N.M. i dr. Skoroshkola. Puteshestvie s Bimom i Bomom v stranu matematiku:posobie po podgotovke detei k shkole. M., 2006.
Ahutina T.V., Polonskaya N.N., Pylaeva N.M. i dr.Neiropsihologicheskaya diagnostika. V kn.: «Neiropsiho logicheskaya diagnostika i obsledovanie pis'ma i chteniya mladshih shkol'nikov». Pod red. T.V. Ahutinoi i O.B. Inshakovoi. M., 2007.
Ahutina T.V., Pylaeva N.M. Neiropsihologicheskii podhod k korrekcii trudnostei obucheniya // Neiropsihologiya segodnya / Pod red. E.D. Homskoi. M., 1995.
Ahutina T.V., Pylaeva N.M. Metodologiya neiropsiho logicheskogo soprovozhdeniya detei s neravnomernost'yu razvitiya psihicheskih funkcii // Doklady Vtoroi Mezhdu narodnoi konferencii, posvyashennoi 100letiyu so dnya rozhdeniya A.R. Luriya. Pod red. T.V. Ahutinoi i Zh.M. Glozman. M., 2003.
Ahutina T.V., Pylaeva N.M., Yablokova L.V. Neiropsihologicheskii podhod k profilaktike trudnostei obucheniya. Metody razvitiya navykov programmirovaniya i kontrolya // Shkola zdorov'ya. T. 2. № 4. 1995.
Ahutina T.V., Forman N., Krichevec A.N. i dr. Razvitie prostranstvennyh funkcii u detei s cerebral'nym paralichom s pomosh'yu komp'yuternyh i nastol'nyh igr // Shkola zdorov'ya. № 4. 2004.
Vygotskii L.S. Psihologiya i uchenie o lokalizacii psihich eskih funkcii. Sobr. soch. v 6 t. T.1. M., Pedagogika, 1982.
Vygotskii L.S. Istoriya razvitiya vysshih psihicheskih funkcii. Sobr. soch.: V 6 t. T. 3. M., 1983.
Gal'perin P.Ya. Razvitie issledovanii po formirovaniyu umstvennyh deistvii // Psihologicheskaya nauka v SSSR. T.1. M., 1959.
Kalita N.G. Metody vosstanovleniya nominativnoi funkcii rechi pri akustiko-mnesticheskoi afazii // Problemy afazii i vosstanovitel'nogo obucheniya / Pod. red. L.S. Cvetkovoi. M., 1975.
Kamardina I.O. Metodika «Naidi businku» v razvitii zritel'noprostranstvennyh funkcii // Autizm i narusheniya razvitiya. № 3. 2004.
Korsakova N.K., Mikadze Yu.V., Balashova E.Yu. Neuspevayushie deti: neiropsihologicheskaya diagnostika trudnostei v obuchenii mladshih shkol'nikov. M., 1997.
Luriya A.R. Vosstanovlenie funkcii mozga posle voen noi travmy. M., 1948.
Luriya A.R. Osnovy neiropsihologii. M., 1973.
Maksimenko M.Yu. Deti doshkol'nogo vozrasta s funkcional'noi nedostatochnost'yu pravogo polushariya: problemy diagnostiki i korrekcii // Shkola zdorov'ya. № 4. T. 4,1997.
Polonskaya N.N. Neiropsihologicheskaya diagnostika detei mladshego shkol'nogo vozrasta. M., 2007.
Pylaeva N.M. Opyt neiropsihologicheskogo obsledovaniya detei 5—6 let s zaderzhkoi psihicheskogo razvitiya //Vestn. Mosk. Uneta. Ser. 14. Psihologiya. 1995. № 3.
Pylaeva N.M. Primenenie metodiki «Sortirovka cvetnyh figur» v korrekcionnorazvivayushem obuchenii //Shkola zdorov'ya. 1999. № 1.
Pylaeva N.M. Neiropsihologicheskie metody razvitiya funkcii programmirovaniya i kontrolya // Shkola zdorov'ya. 2002. № 4.
Pylaeva N.M., Ahutina T.V. Shkola vnimaniya.Metodika razvitiya i korrekcii vnimaniya u detei 5—7 let.Metodicheskoe posobie. M., 1997; 3e izd. 2004.
Pylaeva N.M., Ahutina T.V. Korrekciya zritel'nover bal'nyh funkcii u detei 5—7 let // Shkola zdorov'ya. 1999. №2.
Pylaeva N.M., Ahutina T.V. Metodika «Slozhi figuru» v diagnostike i korrekcii zritel'noprostranstvennyh trudnostei // Shkola zdorov'ya. 2000. № 3.
Pylaeva N.M., Ahutina T.V. Shkola umnozheniya. Metodika razvitiya vnimaniya u detei 7 - 9 let: metodicheskoe posobie i rabochaya tetrad', M., 2006.
Semago N.Ya. Sovremennye podhody k formirovaniyu prostranstvennyh predstavlenii u detei kak osnova kompensacii trudnostei osvoeniya programmy nachal'noi shkoly //Defektologiya. 2000. № 1.
Semenovich A.V. Neiropsihologicheskaya diagnostika i korrekciya v detskom vozraste. M., 2002.
Cvetkova L.S. Vosstanovitel'noe obuchenie prilokal'nyh porazheniyah mozga. M., 1972.
Abikoff R. Efficacy of cognitive training intervention in hyperactive children: A critical review // Clinical Psychology Review. 1985. V. 5.
Akhutina T., Foreman N., Krichevets A. et al. Improving spatial functions in children with cerebral palsyusing computerized and traditional gametasks // Disability and Rehabilitation. 2003. V. 25, № 24.
Bailey D.M. Research for the health professional: A practical guide. (3rd ed.). Philadelphia, 1997.
Bodrova E., Leong D.J. Tools of the Mind. The Vygotskian approach to early childhood education. 2nd ed. New Jersey, 2007.
Braga L.W., Da Paz Junior A.C., Ylvisaker M. Direct cliniciandelivered versus indirect familysupported rehabilitation of children with traumatic brain injury: A randomized control trial // Brain Injury. 2005. V. 19 (10).
Diamond A., Barnett W.S., Thomas J., Munro S. Preschool program improves cognitive control // Science. Vol. 318, 30 November 2007. [Full-text online]
Kavale K., Forness S.R. Efficacy of special education and related services. Washington, DC, 1999.
Park N.W., Ingless J.L. Effectiveness of attention rehabilitation after an acquired brain injury: A metaanalysis. // Neuropsychology. 2001. V. 15(2).
Polatajko H.J., Rodger S., Dhillon A., Hirji F. Approaches to the management of children with motor problems // D. Dewey, D.E. Tupper (eds.). Developmental motor disorders: A neuropsychological perspective. N.Y.; L., 2004.
Robinson T.R., Smith S.W., Miller M.D., Brownell M.T. Cognitive behavior modification of hyperactivityimpulsivity and aggression: A metaanalysis of schoolbased studies // J. of Educational Psychology. 1999. V. 91.
Thatcher R.W. Cyclical cortical reorganization during early childhood // Brain and Cognition. 1992. V. 20.
Wood D., Bruner J., Ross G. The role of tutoring in problem solving. J. of Child Psychology and Psychiatry. 1976. V. 17.
Ylvisaker M. and Feeney T. Executive functions, self regulation and learned optimism in paediatric rehabilitation: a review and suggestions for intervention // Pediatric Rehabilitation. 2002. V. 5 (2).