Previous issue (2020. Vol. 16, no. 4)
Included in Scopus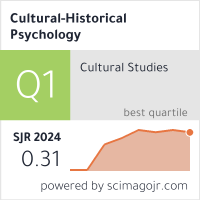 Deviant Behaviour in 18th - beginning of 20th Century (On the Materials of Olonetskaya Province)

1147
Pulkin M.V.
PhD in Psychology, старший научный сотрудник института языка, литературы и истории Карельского научного центра РАН, Moscow, Russia
The paper describes main aspects of historical development of deviant behaviour which, in the author's opinion, is greatly influenced by socioeconomic, gender, ethnic and religious factors. But perhaps the most influential factor affecting one's 'choice' of deviant behaviour was his/her social class. Deviance is regarded as a pulsating phenomenon, with its peak of development and its spread coinciding with periods of social instability. However, a precise definition of deviance is difficult to give: in different social groups acceptable behaviour was defined according to their own norms and values. In the period under consideration the ability of the society (of church, repressive apparatus, other institutions) to resist deviance proved to be quite poor.
Keywords: deviance, deviant behaviour, crime, prostitution, social classes, Orthodox Church, gender, parish, education, clergy, peasants, 'gentlefolk'
Column: Empirical Research
Balagurov Ya.A. Pripisnye krest'yane Karelii v XVIII-XIX vv. Petrozavodsk, 1962.
Bernshtam T.A. Prihodskaya zhizn' russkoi derevni: Ocherki po cerkovnoi etnografii. SPb., 2005.
Gromyko M.M., Buganov A.V. O vozzreniyah russkogo naroda. M., 2000.
Deviantnost' i social'nyi kontrol' v Rossii (XIX-XX vv.): tendencii i sociologicheskoe osmyslenie. SPb., 2000.
Derzhavin G.R. Podennaya zapiska, uchinennaya vo vremya obozreniya gubernii pravitelem Oloneckogo namestnichestva Derzhavinym // Pimenov V.V., Epshtein E.M. Russkie issledovateli Karelii (XVIII v.). Petrozavodsk, 1958.
Ilyuha O.P. Otnoshenie karelov Oloneckoi gubernii k shkole i obrazovaniyu (konec XIX - nachalo XX veka) // Gumanitarnye issledovaniya v Karelii. Petrozavodsk, 2000.
Kozlov I. Missionerskii otchet o sostoyanii i dvizhenii raskola Oloneckoi eparhii i deyatel'nosti eparhial'noi missii protiv raskola i sektantstva za 1911 god // Prilozhenie k № 22 «Oloneckih eparhial'nyh vedomostei za 1912 g.».
Kopyatkevich V.A. Prestupnost' v Oloneckoi gubernii za pyatnadcatiletie. 1897-1911 gg. Petrozavodsk, 1914.
Korel' L.V. Sociologiya adaptacii: voprosy teorii, metodologii i metodiki. Novosibirsk, 2005.
Loginov K.K. Material'naya kul'tura i proizvodstvenno bytovaya magiya russkih Zaonezh'ya. SPb., 1993.
Maklionov K. Iz sela Uhty, Vytegorskogo uezda // Oloneckie eparhial'nye vedomosti. 1906. № 1.
Mironov B.N. Social'naya istoriya Rossii perioda imperii (XVIII - nachalo XX v.). Genezis lichnosti, demokraticheskoi sem'i, grazhdanskogo obshestva i pravovogo gosudarstva. T. 2. SPb., 1999.
Prii A. Nishenstvo kak promysel // Oloneckie eparhial'nye vedomosti. 1907. № 11.
Pul'kin M.V. Evrei v malyh gorodah Evropeiskogo Severa Rossii (konec XIX - nachalo XX v.) // Istorikokul' turnye tradicii malyh gorodov Russkogo Severa. Petrozavodsk, 2006.
Rahmatullin E.S., Habriev R.F. Deviantnoe povedenie kak social'naya problema. Kazan', 2004.
Taroeva R.F. Material'naya kul'tura karel. Etnograficheskii ocherk. M.; L., 1965.
Farsinonov A. Nemzhinskii prihod Lodeinopol'skogo uezda // Oloneckie eparhial'nye vedomosti. 1906. № 13.
Engelstein L. Nravstvennost' i derevyannaya lozhka: sifilis, seks i obshestvo glazami rossiiskih vrachei (1890 - 1905) // Amerikanskaya rusistika: Vehi istoriografii poslednih let. Imperatorskii period. Samara, 2000.