Previous issue (2020. Vol. 16, no. 4)
Included in Scopus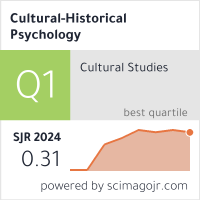 Gender Approach in the Context of L.S. Vygotsky's Cultural-Historical Psychology

1200
Semenova L.E.
PhD in Psychology, Assistant professor at the Developmental and Educational psychology chair, Nizhniy Novgorod State University of Education., Nizhniy Novgorod, Russia
e-mail: psychology@nfmgei.ru
The paper compares the main ideas of the cultural-historical psychology with the theoretical foundations of a new scientific branch, gender researches in psychology. The author analyses one of the most well-known theories of the social construction of gender, S. Bem's «enculturated lens theory», and shows how similar these ideas are to the ones proposed by L.S. Vygotsky concerning, firstly, the development of human mind through 'ingrowing' into the culture, and secondly, the social formation of mind and gender.
Keywords: culural-historical theory, ideal and real forms, appopriation, mediation, gender approach
Column: Discussions and Discourses
Aleshina Yu.E., Volovich A.S. Problemy usvoeniya rolei muzhchiny i zhenshiny // Voprosy psihologii. 1991. № 4.
Bem S. Linzy gendera: transformaciya vzglyadov na problemu neravenstva polov. M., 2004.
Bern Sh. Gendernaya psihologiya. SPb., 2001.
Voronina O.A. Gender // Slovar' gendernyh terminov /Pod red. A.A. Denisovoi. M., 2002.
Vygotskii L.S. Sobranie sochinenii: V 6 t. M., 1982-1984.
Vygotskii L.S. Problema kul'turnogo razvitiya rebenka //Vestn. Mosk. unta. Seriya 14. Psihologiya. 1991. № 4.
Gusel'ceva M.S., Asmolov A.G. Paradigmy razvitiya v psihologii // Mir psihologii. 2007. № 2.
Zdravomyslova E.A., Temkina A.A. Social'noe konstruirovanie gendera kak metodologiya feministskogo issledovaniya // Rossiiskii gendernyi poryadok: sociologicheskii podhod: Kollektivnaya monografiya / Pod red. E.A. Zdravomyslovoi, A.A. Temkinoi. SPb., 2007.
Zinchenko V.P. Ot klassicheskoi k organicheskoi psihologii // Voprosy psihologii. 1996. № 5.
Kimmel M. Gendernoe obshestvo. M., 2006.
Klecina I.S. Psihologiya gendernyh otnoshenii: teoriya i praktika. SPb., 2004.
Kon I.S. Maskulinnost' kak istoriya. Menyayushiesya muzhchiny v menyayushemsya mire. Rossiiskii muzhchina i ego problemy // Gendernyi kaleidoskop: Kurs lekcii / Podobsh. red. M.M. Malyshevoi. M., 2002.
Leont'ev A.A. Klyuchevye idei L.S. Vygotskogo - vklad v mirovuyu psihologiyu XX stoletiya // Psihologi cheskii zhurnal. 2001. T. 22. № 4.
Ul'enkova U.V., Lebedeva O.V. Organizaciya i soderzhanie special'noi psihologicheskoi pomoshi detyam s problemami v razvitii. M., 2005.
Hodyreva N.V. Izmenyaya psihologiyu… // Bem S. Linzy gendera: transformaciya vzglyadov na problemu neravenstva polov. M., 2004.