Previous issue (2020. Vol. 16, no. 3)
Included in Scopus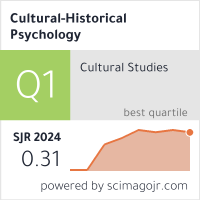 Arbitrary memory disorders in the structure of cognitive dysontogenesis in children with various types of abnormal development

1149
Zvereva N.V.
PhD in Psychology, Professor Department of Neuro- and Patho-Psychology of the Faculty of Clinical and Special Psychology, Moscow State University of Psychology and Education,, Moscow, Russia
e-mail: nwzvereva@gmail.com
Article presents research data on arbitrary memory of children with various types of abnormal development. Sample consisted of children from 8 to 15 years old with schizophrenia and residual-organic disorders of non-endogenous origin (distorted and other types of dysontogenesis). Arbitrary memory was tested with 10 words inventory, pair associations and methods on modality-specific memory using nonverbal stimuli, that was administered tactically, stereognistically and visually. Results indicate that type of abnormal development in childhood determines types of mental functions' disorders, including memory. Types of cognitive dysontogenesis from perspective of arbitrary memory disorders in children are described.
Keywords: arbitrary, aural-verbal memory, tactile memory, visual memory, cognitive dysontogenesis, schizophrenia
Column: Empirical Research
Ahutina T.V. Neiropsihologiya i shkola // Psihologiya pered vyzovom budushego: Materialy konferencii, posvyashennoi 40letiyu fakul'teta psihologii MGU im. M.V. Lomonosova. M., 2006.
Vrono M.Sh. O nekotoryh narusheniyah razvitiya u detei, stradayushih shizrofreniei // Zh. nevropat. i psihiatr. im. S.S. Korsakova. 1976. № 10.
Vygotskii L.S. Sobr. soch. : V 6 t. T. 2, 5. M., 1983.
Goryunova A.V., Kozlovskaya G.V., Rimashevskaya N.V. K voprosu o neiropsihicheskoi dezintegracii u detei rannego vozrasta iz gruppy vysokogo riska po endogennym psihozam // Problemy shizofrenii detskogo i podrostkovogo vozrasta / Pod red. M.Sh. Vrono. M., 1986.
Ermilov T.A., Zvereva N.V. Osobennosti proizvol'nogo taktil'nogo zapominaniya u zdorovyh i bol'nyh shizofreniei detei i podrostkov (eksperimental'noe issledovanie) // Voprosy psihicheskogo zdorov'ya detei i podrostkov. 2005 (5). № 1.
Zvereva N.V. Disgarmonichnost' kak specificheskii priznak kognitivnogo dizontogeneza pri shizofrenii v detskom vozraste // V.M. Behterev i sovremennaya psihologiya: Materialy dokladov na rossiiskoi nauchnoprakticheskoi konferencii. KGU, 29—30 sent. 2005 g. Kazan', 2005.
Zeigarnik B.V. Patopsihologiya. M., 1986.
Karimulina E.G., Zvereva N.V. Taktil'naya deyatel'nost' i uspeshnost' obucheniya u mladshih shkol'nikov // Voprosy psihicheskogo zdorov'ya detei i podrostkov. 2007 (7). № 2.
Kovalev V.V. Detskaya psihiatriya. M., 1995.
Korsakova N.K., Mikadze Yu.V., Balashova Yu.E. Neuspevayushie deti: neiropsihologicheskaya diagnostika trudnostei v obuchenii mladshih shkol'nikov. M., 2002.
Lebedinskii V.V. Narusheniya psihicheskogo razvitiya v detskom vozraste. M., 2003.
Meleshko T.K, Aleinikova S.M., Zaharova N.V. Osobennosti formirovaniya poznavatel'noi deyatel'nosti u detei, bol'nyh shizofreniei // Problemy shizofrenii detskogo i podrostkovogo vozrasta / Pod red. M.Sh. Vrono. M., 1986.
Psihologiya pamyati. Hrestomatiya. / Pod red. Yu.B. Gippenreiter i V.Ya. Romanova. M., 2000.
Rubinshtein S.Ya. Psihologiya umstvenno otstalogo shkol'nika. M., 1979.
Cirkin S.Yu. Koncepciya psihopatologicheskogo diateza i ee istoki // Nezavisimyi psihiatricheskii zhurnal. 1998. № 4.
Eksperimental'nopsihologicheskie issledovaniya patologii psihicheskoi deyatel'nosti pri shizofrenii / Pod red. Yu. F. Polyakova. M., 1982.