Previous issue (2021. Vol. 17, no. 1)
Included in Scopus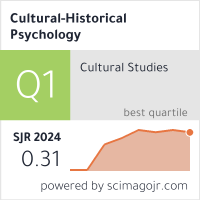 Phenomenological and Hermeneutic Approaches in Qualitative Psychological Research

2032
Busygina N.P.
PhD in Psychology, Assistant Professor, Department of Counselling and Clinical Psychology, Chair of Individual and Group Psychotherapy, Moscow State University of Psychology an Education, Moscow, Russia
ORCID: https://orcid.org/0000-0002-2344-9543
e-mail: boussyguina@yandex.ru
The article presents a critical analysis of the methodological consequences of phenomenological and philosophical hermeneutics ideas in the field of psychological research. The article examines the possibility of a generalized perspective on qualitative research with emphasis on flexibility of research techniques and procedures that can be used in a variety of conceptual approaches. As well as focus on sequence and coherence of the methodological approach when the methodical procedures are coherent to philosophical grounds of the approach is analyzed. The author describes phenomenological and hermeneutic approaches' philosophical grounds used as a qualitative research strategy and shows how particular philosophical world view take shape in the data analysis procedures and in research quality assessment principles.
Keywords: Qualitative Research, Phenomenological Approach, Hermeneutic Approach, Description, Interpretation, Intuitive Phenomenology, Empathic Phenomenology
Column: Theory and Methodology
1. Busygina N. P. Nauchnyi status kachestvennyh metodov v psihologii // Moskovskii psihoterapevticheskii zhurnal, 2005, № 2.
2. Busygina N. P. Filosofskie osnovaniya gumanitarnoi psihologii // Moskovskii psihoterapevticheskii zhurnal, 2007, №4.
3. Gadamer H.-G. Istina i metod: Osnovy filosofskoi germenevtiki. M., 1988.
4. Gusserl' E. Fenomenologicheskaya psihologiya // Gusserl' E. Izbrannye raboty. M., 2005.
5. Kvale S. Issledovatel'skoe interv'yu. M., 2003.
6. Lorencer A. Arheologiya psihoanaliza: Intimnost' i social'noe stradanie. M., 1996.
7. Rutkevich A. M. Glubinnaya germenevtika A. Lorencera // Logos, 1992, № 3.
8. Strauss A., Korbin Dzh. Osnovy kachestvennogo issledovaniya: Obosnovannaya teoriya, procedury i tehniki. M., 2007.
9. Ulanovskii A. M. Fenomenologicheskii podhod kak kachestvennaya issledovatel'skaya metodologiya: Dis. ... kand. psihol. nauk. M., 2005.
10. Ulanovskii A. M. Fenomenologicheskii metod v psihologii, psihiatrii i psihoterapii // Metodologiya i istoriya psihologii, 2007, tom 2, vypusk 1.
11. Haidegger M. Bytie i vremya. SPb., 2002.
12. Allen D. G. Hermeneutics: philosophical traditions and nursing practice research // Nursing Science Quarterly. 1995.Vol. 8 (4).
13. Altheide D., Johnson J. Criteria for assessing interpretive validity in qualitative research // Denzin N. K., Lincoln Y. S. (Eds.) Handbook of qualitative research. Thousand Oaks, CA: Sage Publications, 1994.
14. Creswell J. W. Qualitative inquiry and research design: Choosing among five traditions. Thousand Oaks, CA: Sage Publications, 1998.
15. Crotty M. Phenomenology and Nursing Research. Melbourne: Churchill Livingstone, 1996.
16. Fish S. Is there a Text in this Class? The Authority of Interpretive Communities. Cambridge, MA: Harvard University Press, 1980.
17. Holloway I., Todres L. The status of method: flexibility, consistency and coherence // Qualitative Research. 2003. Vol. 3 (3).
18. Koch T. Interpretive approaches in nursing research: The influence of Husserl and Heidegger // Journal of Advanced Nursing. 1995. Vol. 21.
19. Kvale S. The qualitative research interview a phenomenological and a hermeneutical mode of understanding // Journal of phenomenological psychology. 1983. Vol. 14.
20. Laverty S. M. Hermeneutic phenomenology and phenomenology: A comparison of historical and methodological considerations // International Journal of Qualitative Methods. 2003. Vol. 2 (3). Article 3. Электронная версия:
http://www.ualberta.ca/~iiqm/backissues/2_3final/html/laverty.html.
21. Moustakas C. Phenomenological research methods. Thousand Oaks, CA: Sage Publications, 1994.
22. Ratner C. Cultural psychology: Theory and method. New York: Plenum, 2002.
23. Ricoeur P. The model of the text: Meaningful action considered as a text // Rabinow P., Sullivan W.M. (Eds.) Interpretive Social Science: A reader. Berkeley, CA: University of California Press, 1979.
24. Sadala M. L. A., Adorno R. de C. F. Phenomenology as a method to investigate the experiences lived: A perspective from Husserl and MerleauPonty's thought // Journal of Advanced Nursing. 2001. Vol. 37 (3).
25. Schafer G. Romantic love in heterosexual relationship: women's experiences // Journal of social sciences. 2008. Vol. 16 (3).
26. Seal C. The Quality of Qualitative Research. Thousand Oaks, CA: Sage Publications, 1999.
27. Willis P. From «the things themselves» to a «feeling ofgukunderstanding»: Finding different voices in phenomenological research // IndoPacific Journal of Phenomenology. 2004.
Vol. 4. Edition 1. Электронная версия: http: // www.ipjp.org/august2004/willis4e1.pdf.
28. Winters C. A. Living with chronic heart disease: a pilot study // The Qualitative Report. 1997. Vol. 3. № 4. December. Электронная версия: http://www.nova.edu/ssss/QR/QR34/winters.html.