Previous issue (2020. Vol. 16, no. 4)
Included in Scopus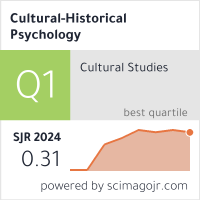 Study of emotional burnout syndrome as value-meaning personality sphere disorder (theoretical aspect)

8801
Ermakova E.V.
PhD student at the General psychology chair, Psychology faculty, State University "Higher School of Economics", Moscow, Russia
e-mail: eka.ermakova@gmail.com
The article deals with the emotional burnout syndrome as a problem of personality psychology despite the tradition in Russian psychology to regard it as a result of continuous professional stress and professional deformation. Basing on the analysis of different approached to emotional burnout problem in Russian and foreign works it was concluded that they lack explanatory potential and there is a demand for investigating this syndrome in a broader paradigm. The author provides systemic methodological outlook of the problem and defines its theoretical status. Syndrome of emotional burnout is treated as violation of value-meaning personal regulation that hampers experiencing of higher order values and leads to dissolution of meanings in practical and professional activities. This approach proves promising for explanation of the specific nature of this syndrome as well as for elaboration of preventive measures.
Keywords: syndrome of emotional burnout, stress, value-meaning sphere, personality, dynamic system of meanings, spiritual organism
Column: Reviews
Asmolov A.G. Lichnost' kak predmet psihologicheskogo issledovaniya. M., 1984.
Vodop'yanova N.E., Starchenkova E.S. Sindrom vygoraniya: diagnostika i profilaktika. SPb., 2005.
Gnezdilova O.N. Innovacionnaya pedagogicheskaya deyatel'nost' kak faktor preduprezhdeniya emocional'nogo vygoraniya uchitelya: Diss.kand.psih.nauk. M., 2005.
Dougerti K. Vvedenie v ekonometriku. M., 2004.
Ermakova E.V. Cennostno-smyslovaya sfera lichnosti i sindrom psihicheskogo vygoraniya //Materialy XIV Mezhdunarodnoi konferencii studentov, aspirantov i molodyh uchenyh Lomonosov-2007.Sekciya «Psihologiya»
Ermakova E.V. Fenomen vygoraniya s tochki zreniya ekzistencial'no-analiticheskoi teorii A.Lengle. // Tret'ya Vserossiiskaya nauchno-prakticheskaya konferenciya po ekzistencial'noi psihologii, M. 2007.
Zinchenko V.P. Vklad A.A. Uhtomskogo v psihologicheskuyu fiziologiyu // Voprosy psihologii. 1995. №5.
Zinchenko V.P. Gipoteza o proishozhdenii ucheniya A.A.Uhtomskogo o dominante // Chelovek. 2000. №3.
Zinchenko V.P. Porozhdenie i metamorfozy smysla: ot metafory k metaforme // Kul'turno-istoricheskaya psihologiya. 2007. №3.
Krivcova S.V. Viktor Frankl i Maks Sheller // K 100-letiyu Frankla: materialy mezhdunarodnoi konferencii / pod red. Leont'eva D.A. M., 2005.
Leonova A.B. Osnovnye podhody k izucheniyu professional'nogo stressa // Vestnik Moskovskogo Universiteta, seriya 14: Psihologiya. 2001. №3.
Leonova A.B. Kompleksnaya strategiya analiza professional'nogo stressa: ot diagnostiki k profilaktike i korrekcii // Psihologicheskii zhurnal. 2004. №2.
Leonova A.B. Psihodiagnostika funkcional'nyh sostoyanii cheloveka. M., 1984.
Leont'ev A.N. Problemy razvitiya psihiki. M., 1977.
Leont'ev D.A. Psihologiya smysla: priroda, stroenie i dinamika smyslovoi real'nosti. M., 2003.
Leont'ev D.A. Novye gorizonty problemy smysla v psihologii// Problema smysla v naukah o cheloveke (k 100-letiyu Viktora Frankla): materialy mezhdunarodnoi konferencii/ pod red.D.A.Leont'eva. M., 2005.
Langle A. Person. Ekzistencial'no-analiticheskaya teoriya lichnosti. M., 2005.
Langle A. Ekzistencial'nyi analiz – naiti soglasie s zhizn'yu // Moskovskii psihoterapevticheskii zhurnal. 2001. №1.
Mal'ceva N.V. Proyavlenie sindroma psihicheskogo vygoraniya v processe professionalizacii uchitelya v zavisimosti ot vozrasta i stazha raboty.// Diss. kand. psihol. nauk. M., 2005.
Nasledov A.D. SPSS Komp'yuternyi analiz dannyh v psihologii i social'nyh naukah. Spb., 2007.
Orel V.E. Sindrom psihicheskogo vygoraniya lichnosti. M., 2006.
Orel V.E. Strukturno-funkcional'naya organizaciya i genezis psihicheskogo vygoraniya. //Diss ... d-ra psihol.nauk. M., 2006.
Psihologiya zdorov'ya// pod redakciei Nikiforova G.S., SPb., 2003 .
Praktikum po psihologii professional'noi deyatel'nosti i menedzhmentu// pod redakciei Nikiforova G.S., SPb., 2001.
Selye G. Stress bez distressa. Riga, 1992.
Strel'cova I.V. Emocional'nomu vygoraniyu – stop! Krasnodar, 2006.
Uhtomskii A.A. Izbrannye trudy. L., 1978.
Uhtomskii A.A. Intuiciya sovesti. SPb., 1996.
Uhtomskii A.A. Zasluzhennyi sobesednik: etika, religiya, nauka. Rybinsk, 1997.
Formanyuk T.V. Sindrom «emocional'nogo sgoraniya» uchitelya. // Voprosy psihologii.1994. №6.
Frankl V. Chelovek v poiskah smysla. M., 1990.
Frankl V.Teoriya i terapiya nevrozov: Vvedenie v logoterapiyu i ekzistencial'nyi analiz. SPb., 2001.
Horni K. Nevroz i razvitie lichnosti. M., 1998.
Horni K. Nevroticheskaya lichnost' nashego vremeni. Samoanaliz. M., 2000.
Horni K. Nashi vnutrennie konflikty. M., 2003.
H'ell L., Zigler D. Teorii lichnosti. SPb., 2003.
Sherniss C. Staff Burnout.//Job Stress in The Human Services. Beverly Hills, 1989.
Cox T. Griffits A. The Burnout Companion to Study and Practice. A Critical Analysis, 1998.
Edelwich E, Brodsky A. Stages of Disillusionment in the Helping Professions. New York, 1980.
Langle A. Burnout-Existentional meaning and Possibilities of Prevention. European Psychotherapy.//Vol4 N1. 2004
Langle A, Orgler C. The Existence Scale. European Psychotherapy.//Vol 4 N1, 2003.
Maslach C.A Multidimentional Theory of Burnout.// Theories of Organizational Stress, 1994.
Maslach C. Leiter.M. The Truth About Burnout, 1997.
Pines, A.M. Burnout: From Tendium to Personal Growth. New York, 1981.
Tomic W., Evers W., Brouwers A. Existential Fullfillment And Teacher Bournout. European Psychoterapy.///Vol 5 N1, 2004.