Previous issue (2020. Vol. 16, no. 4)
Included in Scopus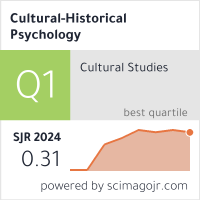 The Problem of Psychological Analysis of Cultural Genesis of Humor

1144
Dombrovskaya I.S.
Psychologist, Private Educational Institution «Grodno College of Business and Law», Belarus
e-mail: iolantads@rambler.ru
Cultural-historical approach shows that the basic mechanisms of humor development in the phylogeny are the mechanisms of sociogenesis and noogenesis. Deeply rooted in the personality of a modern man, humor offers the freedom of human consciousness and the individual variability by the means of excessiveness and discontinuity of its function, moreover opens the possibility of manipulation of public consciousness. The humor is in the process of cultural development.
Keywords: humor, comic, laugh, sociogenesis, noogenesis, dialogue
Column: Psychology Of Art
Avgustin Avrelii. Ispoved'. Kniga 10 // Odissei. Chelovek v istorii. M., 1989.
Aristotel'. Ob iskusstve poezii // Antichnaya literatura. Greciya. Antologiya. Ch. 2. M., 1989.
Aristotel'. Etika. Politika. Ritorika. Poetika. Kategorii. Mn., 1998.
Asmolov A. G. Psihologiya lichnosti: principy obshepsihologicheskogo analiza. M., 2001.
Bahtin M. M. Tvorchestvo Fransua Rable i narodnaya kul'tura Srednevekov'ya i Renessansa. M., 1990.
Bergson A. Smeh. M., 1992.
Budagov R. A. Istoriya slov v istorii obshestva. M., 1971.
Vygotskii L. S. Sobranie sochinenii: V 6 t. T. 4. Detskaya psihologiya. M., 1984.
Vygotskii L. S. Sobranie sochinenii: V 6 t. T. 2. Problemy obshei psihologii. M., 1982.
Gilbert K. E., Kun G. Istoriya estetiki. SРb., 2000.
Dante A. Bozhestvennaya komediya. Per. s ital. Mn., 1986.
Johnson B. Dve komedii. M., 1978.
Dombrovskaya I. S., Leont'ev D. A. Yumor // Chelovek. Filosofskoenciklopedicheskii slovar'. M., 2000.
Dombrovskaya I. S. Taina zhivogo smeha // Alter EGO. 1994. № 2-3.
Dombrovskaya I. S. Yurodstvovanie kak stil' zhiznetvorchestva // 1ya vserossiiskaya nauchnoprakti cheskaya konferenciya po ekzistencial'noi psihologii: Мaterialy soobshenii, 2000.
Dombrovskaya I. S. K probleme kul'turnogo standarta yumora // Chetvertaya vserossiiskaya nauchnopraktich eskaya konferenciya po ekzistencial'noi psihologii: Мaterialy soobshenii / Рod red. D. A. Leont'eva. M., 2010.
Dombrovskaya I. S. Ideal'noe kak vid materii: problema psihologii // Filosofskaya nauka. 2010. № 1.
Eremin A. L. Noogenez i teoriya intellekta. Krasnodar, 2005.
Zhan-Pol'. Prigotovitel'naya shkola estetiki. M., 1981.
Ivanova E. M., Enikolopov S. N. Psihologicheskie issledovaniya chuvstva yumora // Voprosy psihologii. 2006. № 4.
Kant I. Sochineniya: V 6 t. T. 5. M., 1966.
Leont'ev D. A. Refleksiya kak predposylka samodeterminacii // Psihologiya cheloveka v sovremennom mire. T. 2.
Problema soznaniya v trudah S. L. Rubinshteina, D. N. Uznadze, L. S. Vygotskogo. Problema deyatel'nosti v otechestvennoi psihologii. Issledovanie myshleniya i poznavatel'nyh processov. Tvorchestvo, sposobnosti, odarennost': Мaterialy Vserossiiskoi yubileinoi nauchnoi konferencii, posvyashennoi 120-letiyu so dnya rozhdeniya S. L. Rubinshteina, 15-16 oktyabrya 2009 g. / Otv. red. A. L. Zhuravlev i dr. M., 2009.
Leont'ev D. A. Stanovlenie samoregulyacii kak osnova psihologicheskogo razvitiya: evolyucionnyi aspekt // Sub'ekt i lichnost' v psihologii samoregulyacii / Рod red. V. I. Morosanovoi. M.; Stavropol', 2007.
Leont'ev D. A., Salihova A. Zh. Vzglyad na sebya so storony kak predposylka sistemnoi refleksii // Materialy IV Vserossiiskogo s'ezda RPO 18-21 sentyabrya 2007 g.: V 3 t. T. 2. M., Rostov n/D., 2007.
Lihachev D. S., Panchenko A. N., Ponyrko L. V. Smeh v Drevnei Rusi. L., 1984.
Martin Rod. Psihologiya yumora. SРb., 2009.
Ovidii Nazon // Velikie mysli velikih lyudei. T.1. M., 1998, privoditsya po: Stankin M. I. Psihologiya v biznese. M., 2003.
Rable F. Gargantyua i Pantagryuel': Per. s fr. M., 2001.
Ryumina M. T. Esteticheskie problemy komicheskogo: Diss. ... kand. filos. nauk. M., 1990.
Flier A. Ya. Kul'turogenez. M., 1995.
Frankl V. Chelovek v poiskah smysla: Per. s angl. i nem. M.,1990.
Freud S. Ostroumie i ego otnoshenie k bessoznatel'nomu // Freud S. Ya i Ono. Trudy raznyh let: Per s nem. Tbilisi, 1991.
Ciceron M. T. Tri traktata ob oratorskom iskusstve. M., 1972.
Chernyh P. Ya. Istorikoetimologicheskii slovar' sovremennogo russkogo yazyka. M., 1994.
Allport G. Osobowosc i religija. Warszawa, 1988.