Previous issue (2021. Vol. 17, no. 3)
Included in Scopus
Powered by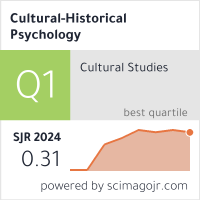 Socialization Scenarios for the Children of Russian Immigrants in the U.S.

1627
Makhovskaya O.I.
PhD in Psychology, Senior Research Fellow, Lab.of Psychology and Psychophysiology of Creativity, Institute of Psychology, Russian Academy of Sciences, Moscow, Russia
e-mail: olyam@inbox.ru
The object of the qualitative comparative analysis were the socialization scenarios of children of post-Soviet immigrants in the U.S., as well as typical interaction scenarios of Russian teenagers at school and at home. The author's technique «Family Model» was used to compare the culturally driven family models. The conflict between the typical for the American and Russian society scenarios complicates the psychological adaptation of immigrant children.
Keywords: socialization scenarios, culturally driven family models, in-depth qualitative analysis
Druzhinin V. N. Psihologiya sem'i. Delovaya kniga. Ekaterinburg, 2000.
Lotman Yu. Struktura hudozhestvennogo teksta. M., 1970.
Mahovskaya O. I. Izmenenie opyta lichnosti: scenarii i identichnost'. M., 2009.
Rot Yu., Koptel'ceva G. Vstrechi na grani kul'tur. Igry i uprazhneniya dlya mezhkul'turnogo obucheniya. Kaluga, 2001.
Barett M. English children's acquisition of a European identity // G. Breakwell&E. Lyons (eds.). Changing European Identities: Social Psychological Analyses of Social Change. Oxford, 1996.
Bronfenbrenner U. Two words of Childhood. The USA and USSR. N. Y., 1977.
Harre R. Social Being: A Theory for Social Psychology. Oxfrord, 1979.
Hermas H. J. M. The idealogical self: Toward a theory of personal and cultural positioning.
Key Concepts in Communication and Cultural Studies // Tim O'Sallivan, John Hartley, Danny Sauders, Martin Montgomery and John Fiske. L.; N. Y., 1994.
Mirny A. Russian adolescents in American schools: a study of personal and relational experiences in the context of cultural transition // Thesis Proposal. 2001. February.
Miyamato Y., Kulhman N. Ameriorating culture shock in Japanese expatriate children in the US. International Journal of Intercultural Relations. 2001. V. 25.
Sheets R. H. Human development and ethnic identity // R. H. Sheets &E. R. Hollins (eds). Racial and Ethnic Identity in School Practices. Mahwah, N. J., 1999.
Suarez-Orozco C., Suarez-Orozco M. Children in immigration // Cambridge: L., 2002.
Triandis H. C. Individualism and collectivism. Boulder, CO, 1995.