Previous issue (2021. Vol. 17, no. 2)
Included in Scopus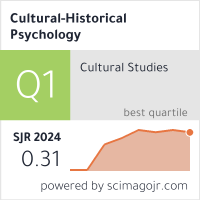 Social deprivation and dysontogenesis as developmental settings for adolescent personality

2441
Kulagina I.Y.
PhD in Psychology, Professor, Department of Educational Psychology, Moscow State University of Psychology and Education, Moscow, Russia
ORCID: https://orcid.org/0000-0002-3095-4329
e-mail: dissovetmgppu@mail.ru
Polyakov E.A.
Associate Professor, Faculty of Extreme Psychology, Moscow State University of Psychology and Education, Moscow, Russia
The paper presents a study of personality variables in orphanage adolescents with normal and challenged development (two different forms of dysontogenesis: mental retardation and mental deficiency). Compared to adolescents growing in families, differences in the development of motivation, values, time perception, and aggressiveness are found in orphans. It is shown that in adolescents growing in a closed institution setting, regardless of their normal or challenged development, there is increased hedonistic motivation dominated by pleasure principle, increased aggressive responses to frustration, and the subjective speed of perceived time is diminished. Personality development of mentally retarded adolescents exhibiting higher conformity in absence of external asocial influences is closer to normal. A hypothesis is proposed that educational effect in correc-tional institutions of type 8 is situationally specific. The issues of the role of educational setting and disonto¬genesis in personality development are discussed.
Keywords: social deprivation, dysontogenesis, adolescence, development, motivation, value orientations, temporal experiences, aggressiveness, behavioural patterns.
Abul'hanova K. A., Berezina T. N. Vremya lichnosti i vre­mya zhizni. SPb., 2001.
Aseev V. G. Fenomen neodnoznachnosti vozdeistvii: motivacionnye mehanizmy // Motivaciya v sovremennom mire. M., 2011.
Botasheva A. M. Psihologicheskie osobennosti podrostkov v raznyh tipah obrazovatel'nyh i social'nyh uchrezhdenii: Avtoref. diss. … kand. psihol. nauk. Stavropol', 2004.
Bratus' B. S. Lichnostnye smysly po A. N. Leont'evu i prob­lema vertikali soznaniya // Tradicii i perspektivy deyatel'nos­tnogo podhoda v psihologii: shkola A. N. Leont'eva. M., 1999.
Vilyunas V. K. Psihologiya razvitiya motivacii. SPb., 2006.
Vygotskii L. S. Diagnostika razvitiya i pedologicheskaya klinika trudnogo detstva // Vygotskii L. S. Sobr. soch.: V 6 t. T. 5. M., 1983.
Golovaha E. I., Kronik A. A. Psihologicheskoe vremya lichnosti. Kiev, 1984.
Golovko N. V. Specifika formirovaniya ego-zashitnyh mehanizmov i sostoyanie zdorov'ya u detei, vospityvayushih­sya v detskih domah: Avtoref. diss. … kand. psihol. nauk. SPb., 2004.
Gribanova G. V. Psihologicheskaya harakteristika lich­nosti podrostkov s zaderzhkoi psihicheskogo razvitiya // Psihologiya detei s zaderzhkoi psihicheskogo razvitiya: Hrestomatiya. SPb., 2004.
Dzugkoeva E. G. Osobennosti lichnosti i ih proy­avleniya v povedenii podrostkov s zaderzhkoi psihicheskogo razvitiya: Avtoref. diss. … kand. psihol. nauk. M., 2000.
D'yakonova T. I. Osobennosti haraktera i pozna­vatel'nyh sposobnostei podrostkov-vospitannikov detskih domov: Avtoref. diss. … kand. psihol. nauk. SPb., 2000.
Egorova M. A. Osobennosti psihologicheskih novoobra­zovanii podrostkov v shkole-internate // Defektologiya. 2006. № 1.
Ermolaeva­Tomina L. B., Benediktova G. F. Principy individualizacii obucheniya // Nauchno-metodicheskie osnovy i opyt organizacii psihologicheskoi sluzhby. Ch. 1. Tashkent, 1988.
Zareckii V. K., Dubrovskaya M. A., Oslon V. N., Hol­mogorova A. B. Puti resheniya problemy sirotstva v Rossii. M., 2002.
Indenbaum E. L. Psihosocial'noe razvitie podrostkov s legkimi formami intellektual'noi nedostatochnosti v raznyh obrazovatel'nyh sredah // Defektologiya. 2011. № 2.
Isaev D. N. Umstvennaya otstalost' u detei i podrostkov. SPB., 2007.
Kompleksnaya pomosh' sem'e s priemnym rebenkom / Pod red. A. M. Sherbakovoi. M., 2002.
Kon I. S. V poiskah sebya: lichnost' i ee samosoznanie. M., 1984.
Kondrat'ev M. Yu. Social'naya psihologiya v obrazo­vanii. M., 2008.
Korobeinikov I. A., Indenbaum E. L. Problemy diagnos­tiki, korrekcii i prognoza pri organizacii soprovozhdeniya detei s legkim psihicheskim nedorazvitiem // Defektologiya. 2009. № 5.
Kravchino E. O. Osobennosti avtoriteta pedagoga dlya raznovozrastnyh i raznostatusnyh vospitannikov zakrytyh obrazovatel'nyh uchrezhdenii: Avtoref. diss. … kand. psihol. nauk. M., 2004.
Kruglov B. S. Formirovanie cennostnyh orientacii lich­nosti // Formirovanie lichnosti v perehodnyi period ot podrostkovogo k yunosheskomu vozrastu. M., 1987.
Kulagina I. Yu. Problemy dominiruyushei motivacii v kontekste teorii deyatel'nosti A. N. Leont'eva // Moskovskaya psihologicheskaya shkola. Istoriya i sovremennost'. T. 4 / Pod red. V. V. Rubcova. M., 2007.
Lebedinskaya K. S. Kliniko-psihologicheskii analiz narushenii povedeniya u podrostkov: sindrom psihicheskoi neustoichivosti // Defektologiya. 1980. № 5.
Lebedinskii V. V. Narushenie psihicheskogo razvitiya v detskom vozraste. M., 2006.
Levin K. Dinamicheskaya psihologiya. Izbrannye trudy. M., 2001.
Makklelland D. Motivaciya cheloveka. SPb., 2007.
Metodiki ocenki urovnya psihologicheskogo zdorov'ya u detei shkol'nogo vozrasta: Uchebno-metodicheskoe poso­bie / Pod red. T. V. Volosovec, E. N. Kutepovoi. M., 2007.
Muhina V. S. Psihologicheskaya pomosh' detyam, vospityvayushimsya v uchrezhdeniyah internatnogo tipa // Voprosy psihologii. 1989. № 1.
Mei R. Lyubov' i volya. M., 1997.
Neimark M. S. Napravlennost' lichnosti i affekt neadek­vatnosti u podrostkov // Izuchenie motivacii povedeniya detei i podrostkov / Pod red. L. I. Bozhovich, L. V. Blagona­dezhinoi. M., 1972.
Nyutten Zh. Motivaciya, deistvie i perspektiva budushego. M., 2004.
Obsuzhdenie doklada G. S. Kostyuka «O roli nasled­stvennosti, sredy i vospitaniya v psihicheskom razvitii reben­ka» // Voprosy psihologii. 1990. № 1.
Pavlycheva T. N. Social'no-psihologicheskie aspekty adaptirovannosti vypusknikov internatnyh sirotskih uchrezh­denii v otkrytom sociume: Avtoref. diss. … kand. psihol. nauk. M., 2010.
Petrova V. G. Umstvenno otstalye deti // Special'naya psihologiya / Pod red. V. I. Lubovskogo. M., 2006.
Petrovskii V. A. Logika «Ya». M.; Tula, 2008.
Polyakov E. A. Razvitie lichnosti podrostkov v usloviyah social'noi deprivacii i dizontogeneza: Avtoref. diss. … kand. psihol. nauk. M., 2009.
Poppe G. K. Narusheniya povedeniya u oligofrenov // Biologicheskie i social'nye faktory narusheniya povedeniya u detei i podrostkov: Sb. nauchnyh trudov. L., 1989.
Postoeva V. A. Cennostno-potrebnostnaya sfera lich­nosti social'no-deprivirovannyh podrostkov: Avtoref. diss. … kand. psihol. nauk. Tomsk, 2004.
Prihozhan A. M., Tolstyh N. N. Psihologiya sirotstva. SPb., 2005.
Psihicheskoe razvitie vospitannikov detskogo doma / Pod red. I. V. Dubrovinoi, A. G. Ruzskoi. M., 1990.
Rais F. Psihologiya podrostkovogo i yunosheskogo vozrasta. SPb., 2000.
Smirnova E. O., Lagutina A. E. Osoznanie svoego opyta det'mi v sem'e i detskom dome // Voprosy psihologii. 1991. № 6.
Tolstyh N. N. Nekotorye osobennosti motivacii i vre­mennoi perspektivy detei-sirot iz uchrezhdenii // Psihologicheskaya nauka i obrazovanie. 2009. № 3.
Tolstyh N. N. Hronotop: kul'tura i ontogenez. M.; Smolensk, 2010.
Frankl V. Chelovek v poiskah smysla. M., 1990.
Cherepanova U. G. Psihologicheskii analiz osobennos­tei obsheniya pedagogov i podrostkov s zaderzhkoi psihi­cheskogo razvitiya, vospityvayushihsya v uchrezhdeniyah internatnogo tipa // Aktual'nye problemy vospitaniya i obra­zovaniya. Vyp. 4. Samara, 2004.
Chuprova M. A. Narusheniya interpersonal'nyh otnoshenii i emocional'nogo razvitiya u detei-sirot bez opyta zhizni v sem'e: Avtoref. diss. … kand. psihol. nauk. M., 2007.
Shipicyna L. M. Psihologiya detei-sirot. SPb., 2005.
Wallach M. A., Green L. R. On age and the subjective speed of time // Journal of Gerontology. 1961. Vol. 16.