Previous issue (2020. Vol. 16, no. 3)
Included in Scopus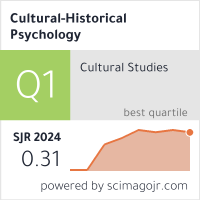 Adolescent Crisis and the Problem of Role Identity

4041
The article touches upon the problem of role identity in the context of adolescence. In the framework of the research role identity is perceived as socio personality and socio-cognitive construct, in which personality, cognitive and social components are integrated and mediated, thus the study of role identity in adolescence gives the opportunity to trace the profound connection between transformations which occur within personality and the changes that take place in the teenager's social situation of development. The idea is put forward that teenagers' role identity is characterized by the presence of inner role conflict which represents the contradiction between the teenager's imaginary and actual role behavior. Inner role conflict illustrates the complex relationship between the real and the ideal form, depicted by L. S. Vygotsky. It is argued that inner role conflict underlies adolescent crisis and that the problem of solving the conflict can contribute to the overcoming of the crisis itself. The conception is illustrated by the results of a pilot study that was carried out in three different schools in Moscow, Russia, among one approximately one hundred teenagers.
Keywords: age crisis, adolescence, role identity, inner role conflict, psychological role, social role, position
Column: Developmental Psychology
Adams G. R. & Marshall S. K. (1996) A developmental social psychology of identity: Understanding the person in context. Journal of Adolescence, 19. Р. 429—442.
Antsupov A. J. & Shipilov A. I. (2000) Conflictology. Unity, Moscow.
Blonsky P. P. (1997) Psihologiya mladshego shkol'nika. — Moscow, Voronej.
Burke P. J. & Reitzes D. C. (1981). The link between identity and role performance. Social Psychology Quarterly, 44, 83—92.
Erikson E. H. (1963) Childhood and Society (2nd ed). New York: W. W. Norton.
Erikson E. H. Identity: youth and crisis. M., 2006.
Gordon C. (1976) Development of Role Identities // Annual Review of Sociology. V. 2. P. 405—433.
Gornostaii P. P. (1999) Diagnostika i korrekziya rolevih konfliktov // Jurnal prakticheskogo psihologa. № 1. Р. 44—51.
Gornostaii P. P. (1999) Lichnostnie characteristiki rolevogo povedeniya. Visnik Charkivskogo derj. Universitetu — № 439. Р. 18—22.
Konovalova N. A. (2006) Vzaimosvyaz vnitrilichnostnogo konflikta I shkolnoi uspevaemosti podroctkov. Diss. …kand. psihol. nauk. M.
Kroger J. (1996) Identity in Adolescence: the balance between self and other. Routledge.
Leont'ev A. N. (1981) Problemi razvitiya psihiki. M.
«Q-sort Method Test» by B. Stephensen // Psihologicheskie testi / Pod red. A. A. Karelina. T. 2. Р. 65—69. M., 2001.
Novgorodtseva A. P. (2006) Vnutrennie konflikti podrostkovogo vozrasta // Kulturno-istoricheskaya psihologiya. № 3.
Polivanova K. N. (1994) Psihologicheskiy analiz krizisov vozrastnogo razvitiya // Voprosi psihologii. № 1.
Psihologiya podrostka. Polnoe rukovodstvo. (2003) // Pod red. A. A. Reana. St. Petersbourg.
Stryker S., Macke A. S. (1978) Status inconsistency and role conflict // Annual Review of Sociology. V. 4. Р. 57—90.
Stryker S. & Serpe (1982) Commitment, identity salience and role behavior: Theory and research example. In W. Ickes & E.S. Knowles (Eds.) Personality, Roles and Social Behavior. New York: Springer-Verlag.
Vygotsky L. S.(1984) Pedologiya podrostka // Sobranie sochineniy: V 6 t. V. 4. M.
Wickrama K., Conger R., Lorenz F., & Matthews L. (1995) Role identity, role satisfaction and perceived physical health. Social Psychology Quarterly, 58. Р. 270—283.