Previous issue (2021. Vol. 17, no. 1)
Included in Scopus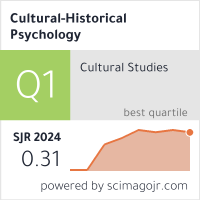 Value Orientations of Chechen and Ingush People: Sources and Determinants

1747
Pavlova O.S.
PhD in Education, chair of ethnopsychology and psychological problems in multicultural education, associate professor, chair of pedagogical psychology, Moscow State University of Psychology and Education, Moscow, Moscow, Russia
ORCID: https://orcid.org/0000-0001-9702-1550
e-mail: os_pavlova@mail.ru
This cros-cultural research was aimed at exploring value orientations of two Russian ethnic groups — Chechen and Ingush people — and the changes in these orientations according to the age and place of living of the respondents. The sample consisted of 508 Chechens and 478 Ingush living in Chechen Republic, Ingush Republic, Moscow and Saint-Petersburg. The study revealed that in the value structure of Nakh peoples the most significant ones were Conservatism, Equality of Rights and Harmony, whereas Hedonism and Hierarchy are increasingly significant to young Chechens and Ingush. Nakh peoples living in major cities appreciate Mastery and Intellectual Autonomy. The author concludes that the value structure of Chechen and Ingush people is determined by collectivism, the sense of belonging to one's ethnic group, by ethnic traditions and customs, moral norms of Muslim ethics and Islamic values, as well as by values of traditional ethno-ethics.
Keywords: ethnocultural values, value orientations, value structure, ethnoethics, behaviour motivation
Abadiev I.U. Ezdel — formula zemnoi i vechnoi zhizni. Nazran', 2005.
Anchabadze G.Z. Vainahi. Tbilisi, 2001.
Gricenko V.V., Smotrova T.N. Cennostno-normativnye osnovy integracii etnicheskih migrantov v rossiiskoe obshestvo. Smolensk, 2008.
Zyazikov M.M. Tradicionnaya kul'tura ingushei: istoriya i sovremennost'. Rostov n/D., 2004.
Il'yasov L. Chechenskii teip // Chechenskaya respublika i chechency: istoriya i sovremennost': Materialy vserossiiskoi nauchnoi konferencii. Moskva, 19—20 aprelya 2005 g. / Otv. red. H.I. Ibragimov, V.A. Tishkov. M., 2006.
Isaev E. Vainahskaya etika. Elektronnaya versiya: http://www.chechnyatoday.com/content/view/4350/483/
Karandashev V.N. Metodika Shvarca dlya izucheniya cennostei lichnosti: koncepciya i metodicheskoe rukovodstvo. SPb., 2004.
Krushel'nickaya O.B., Fam E.H. Vliyanie cennostnyh orientacii shkol'nikov na vospriyatie muzyki // Psihologicheskaya nauka i obrazovanie. 2009. № 5.
Lebedeva N.M., Tatarko A.N. Metody etnicheskoi i krosskul'turnoi psihologii: Uchebno-metodicheskoe posobie. M., 2011.
Lebedeva N.M., Tatarko A.N. Cennosti kul'tury i razvi_ tie obshestva. M., 2007.
Mal'sagov H.S-G. Ingushskii etiket. Nazran', 2005.