Previous issue (2021. Vol. 17, no. 3)
Included in Scopus
Powered by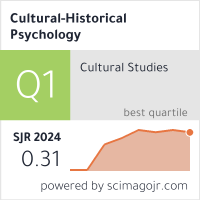 Ontogeny and history. The leading theories reconsidered

1261
Oesterdiekhoff G.W.
Habilitation for sociology, Dr.soz.wiss., Dr. phil. Universities of Karlsruhe, of Bremen, of Duisburg
In the period between 1800 and 1945 or 1970 leading scholars across the sciences based their theories on societal evolution on the comparison ontogeny / history and children / primitives. Although today's leading ideologies seem to have replaced the older approaches, there are some authors who assume that the older theories, widely spread over 150 years and supported by so many great scholars who are famous still today, have been more or less appropriate, whereas the currently leading ideologies tremendously block the advancement of sciences. In the same period when those philosophies as are leading today were conquering the spirit of our time, empirical research actually backed the cognitive evolutionary theories and falsified both relativism and universalism. To my opinion, the recovery of humanities and social sciences has to be based on appropriate developmental approaches. Therefore I present and discuss the leading scholars who have most comprehensively earmarked the central argumentations, thus also reflecting the history of the developmental approach.
Keywords: anthropological stages, mental age, primitive mentality, historical psychology, Piagetian theory
Column: Developmental Psychology
Baldwin J.M. Genetic theory of reality. N. Y., 1915.
Comte A. Cours de philosophie positive. Paris, 1840.
Dasen P. Piagetian cross-cultural psychology. N. Y.,1977.
Dasen P., John W.B. (Eds.) Culture and cognition. Readings in cross-cultural psychology. London, 1974.
Eckensberger L. et al. (Hrsg.) Cross-cultural contributions to psychology. Amsterdam, 1979.
Feuerbach L. The essence of Christianity. N. Y., 1985.
Flynn J. What is intelligence? Cambridge, 2007.
Flynn J.R. Lurija und das Paradox massiver IQ-Gewinne langs der Zeit. In Georg W. Oesterdiekhoff, Heiner Rindermann (Hrsg.), Kultur und Kognition (111—132). Hamburg; Munster, 2008.
Gellathy A.R.H. Acquisition of a concept of logical necessity // Human development. 1987. № 30.
Habermas J. Zur Rekonstruktion des Historischen Materialismus. Frankfurt am Main, 1976.
Hallpike C. Foundations of primitive thought. Oxford, 1979.
Hallpike C. The evolution of moral understanding. London, 2004.
Ibarra L. Creencias, mitos y rituales en el mundo prehispanico. Guadalajara, 2007.
Jahoda G. Piaget and Levy-Bruhl // History of Psychology. 2000. № 3.
Lurija A.R. Cognitive development. Its cultural and social foundations. Harvard, 1982.
Maistriaux R. La sous-evolution des noirs d'Afrique. Sanature, ses causes, ses remedes // Revue de psychologie des peuples. 1955. № 10.
Mogdil S., Celia M. Piagetian research. Vol. 1—8. London, 1976.
Oesterdiekhoff G.W. Kulturelle Bedingungen kognitiver Entwicklung. Der strukturgenetische Ansatz in der Soziologie. Frankfurt am Main, 1997.
Oesterdiekhoff G.W. Zivilisation und Strukturgenese. Norbert Elias und Jean Piaget im Vergleich. Frankfurt am Main, 2000.
Oesterdiekhoff G.W. The spread of AIDS in developing countries. A psycho-cultural approach. (zusammen mit Heiner Rindermann) // The journal of social, political, and economic studies. 2007а. Vol. 32. № 2.
Oesterdiekhoff G.W. Ancient sun cults: Understanding religious rites in terms of developmental psychology // The mankind quarterly. 2007b. № 48.
Oesterdiekhoff G.W. Mental growth of humankind in history. Norderstedt, 2009a.
Oesterdiekhoff G.W. Trials against animals. A contribution to the developmental theory of mind and rationality // The mankind quarterly. 2009b. № 3 / 4.
Oesterdiekhoff G.W. The steps of man towards civilization. The key to disclose the riddle of history. Norderstedt, 2011a.
Oesterdiekhoff G.W. La sociologia genetico-estructural como heredera de la sociologia clasica y de la teoria de la civilizacion. // V. Weiler (directora academica), Norbert Elias y el problema del desarrollo humano. Bogota, Colombia, 2011b.
Oesterdiekhoff G.W. Die geistige Entwicklung der Menschheit. Weilerswist, 2012a.
Oesterdiekhoff G.W. Die Entwicklung der Menschheit von der Kindheitsphase zur Erwachsenenreife. Wiesbaden, 2012b.
Oesterdiekhoff G.W. Traumzeit der Menschheit. Wesen, Ursprung und Untergang der Religion (forthcoming), 2013.
Piaget J. The moral judgment of the child. N. Y., 1932.
Piaget J. The child's conception of the world. N. Y., 1959.
Piaget J. The child's conception of physical causality. Totowa; New Jersey, 1969.
Piaget J. Need and significance of cross-cultural studies in genetic psychology // P. Dasen, J. Berry (Eds.), Culture and cognition. London, 1974.
Piaget J. Gesammelte Werke. Zehn Bande. (vol. 8—10: Original: Piaget J. Introduction a l'epistemologie genetique. Vol. 1: La pensee mathematique, vol. 2: La pensee physique, vol. 3: La pensee biologique, la pensee psychologique, la pensee sociologique. Paris, 1950). Stuttgart, 1975a.
Piaget J. The origin of the idea of chance in children. N. Y., 1975b.
Piaget J., Rolando G. Psychogenesis and the history of sciences. N. Y., 1989.
Poortinga Y.H. Basic problems in cross-cultural psychology. Amsterdam; Lisse, 1977.
Porteus S.D. Primitive intelligence. N. Y., 1937.
Rindermann H. Wechselwirkungen zwischen Intelligenz und Gesellschaft aus Perspektive der psychometrischen Intelligenzforschung // Oesterdiekhoff G.W., Rindermann H. (Hrsg.) Kultur und Kognition. Hamburg; Munster, 2008.
Schroder E. Vom konkreten zum formalen Denken. Bern, 1989.
Vernon P.E. Intelligence and cultural environment. London, 1969.
Werner H. Einfuhrung in die Entwicklungspsychologie. (English: Comparative psychology of mental development. N. Y., 1948). Munchen, 1959.