Previous issue (2021. Vol. 17, no. 2)
Included in Scopus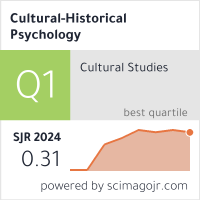 Educational research based on the cultural-historical theory: reflections on physical education subject matter analysis

1076
The purpose of this article is to discuss a specific action related to the cultural historical tradition on devel- opmental teaching: the subject matter analysis. The article develops two main argumentations related to this research action: a) assuming the cultural historical theory as a framework of our own research means to assume this theoretical perspective as a wholeness or as a system of concepts, which brings some implications for our own research; b) a subject matter analysis, as an analysis that allow us to reveal the theoretical concepts that organize a given discipline, should be conducted as a historical analysis, which means, an analysis able to explain the process of development of the human activity which generated this subject matter. In the attempt to develop these two argumentations in the boundary of educational research based on the cultural historical theory, we present a part of a subject matter analysis on physical education. Despite the importance of the sub- ject matter analysis for teaching -by making explicit the theoretical concepts that organize a specific subject matter- this action is not the final point of an educational research, as this final point is located on the elabo- ration of concrete learning tasks directed to student's development of theoretical thinking.
Keywords: cultural historical theory; theoretical concepts; philosophical tradition; subject matter analysis, historical analysis.
Column: Scientific Life
Davidov, V. La ensenanza escolar y el desarrollo psiqui- co: investigacion psicologica teorica y experimental. Moscou., 1988.
Leontiev, A. Actividad, Consciencia y Personalidad. Havana, 1983.
Ilyenkov, E.V. The dialectics of the abstract and the con- crete in Marx's Capital. Delhi, 2008.
Kosik, K. Dialetica do Concreto. Rio de Janeiro, 1976.
Marx, K. O Capital, V.1. S~ao Paulo, 1996.
Vigotski, L.S. Teoria e Metodo em Psicologia. S~ao Paulo, 2004.
Vigotski, L.S. A construc~ao do pensamento e da linguagem. S~ao Paulo, 2009.
Vigotski, L.S. Obras Escogidas. Tomo III. Madri, 1995.
Vygotski, L.S. Obras Escogidas. Tomo IV. Madri, 1996
Vygotski, L.S. Obras Escogidas. Tomo V. Madri, 1997
Vygotsky, L.S. The socialist alteration of man. URSS: Varnitso, 1930. Eletronic document: http//:www.marxistts. org.