Previous issue (2021. Vol. 17, no. 2)
Included in Scopus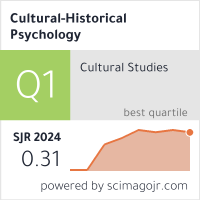 Preservice teaching practice in narrative environment

1511
Vuorinen M.
Master's degree, Doctoral student University of Oulu, Pre-school teacher, Sotkamo, Finland
Hakkarainen P.
PhD, Editor-in-chief of Journal of Russian and East European Psychology, professor emeritus, University of Oulu, Oulu, Finland
ORCID: https://orcid.org/0000-0001-6725-1822
e-mail: phakkar@gmail.com
Traditional teaching practice in Finland emphasizes learning of 'correct' teaching methods and linear didactic model. This paper presents an alternative model to traditional teaching practice, in which learning takes place in joint play-worlds of teacher education students and children. The main tasks of teacher educa- tion students are to elaborate narrative plot, organize concrete play-world environments, create the characters and embed children's learning assignments in the storyline. The implemented model of narrative practice revealed the merits of narrative learning environment in elementary grades to teacher education students.
Keywords: narrative learning, play-world, teaching practice, non-linear didactic model, reflection.
Column: Scientific Life
Bredikyte M. 2011. The zones of proximal development in children's play. Oulu: Acta Universitatis Ouluensis E 119.
Davydov V.V. 1996. Teoriya razvivajushego obuceniya [Theory of developmental teaching and learning]. Moscow: Intor.
Egan K. 1988. Teaching as story telling. Chicago: University of Chicago Press.
Fisher W.R. 1984. Narration as Human Communication Paradigm: The Case of Public Moral Argument. In Communi5 cation Monographs (51), 1—22.
Hakkarainen P. 2002. Kehittava esiopetus ja oppiminen [Developmental preschool education and learning]. Jyvaskyla: PS Kustannnus.
Hakkarainen P. 2007. Curriculum models of early child- hood education In Jakku-Sihvonen R., Niemi H. (Eds.) Edu5 cation as societal contributor. 111—127. Peter Lange.
Hakkarainen P. 2010. The challenge of teacher compe- tences in Finnish educational system In K. Matsushita (Ed.), Atarashii nouryoku ha kyouiku wo kaeruka: Gakuryoku, liter- acy, competency (pp. 281—305). Kyoto: Minerva Shobo. (in Japanese).
Hakkarainen P. & Bredikyte, M. 2002. Making sense with curriculum. In K. Niinisto, et al. (Eds.) Developing Teacher Education in Estonia 171—184. Turku.
Hakkarainen P. , Safarov I., Vuorinen M5L., Peppanen T. 2011. Professional development through narrative teaching and learning. (In print, in Japanese).
Hakkarainen P., Ferholt B. 2013. Creative imagination in playworlds. In Egan K. et al. (Eds.) Wonderful learning. (In print).
Lindqvist G. 1995. The Aesthetics of Play. Stockholm: Uppsala University.
Lisina M.I. 1986. Ontogenez protsessa obshcheniia. [Ontogenetics of communication] Moscow: Pedagogika.
Van Oers B., Janssen5Vos F, Pompert B, Schiferli T. 2003. Teaching as a joint activity. In Narratives of Childhood. Ed. Bert van Oers. Amsterdam: VU University Press.
Piaget J. 1948. The moral judgement of the child. Glencoe, Ill.: Free Press.
Safarov I. 2009. Towards modeling of human relation- ships. Nonlinear dynamical systems in relationships. Oulu: Acta Universitatis Ouluensis E 104.
Sawyer R.K. 1995. Creativity as mediated action: A comparison of improvisational performance and product creativity. Mind, Culture, and Activity, 2, 172—191.
Tharp R. & Gallimore R. 1988. Rousing minds to life. New York: Cambridge University Press.
Tyler R. 1949. Basic principles of curriculum and instruction. Chicago: University of Chicago Press.
Zuckerman G. 2004. Development of reflection through learning activity. European Journal of Psychology of Education. Vol. XIX, 1, 9—18.
Zuckerman G. 2007. Child-adult interaction that cre- ates a zone of proximal development. Journal of Russian and East European Psychology, 45 (3), 31—58.
Zuckerman G.A. & Polivanova K.N. 1992. Introduction to the school life, pts. 1 & 2. Moscow: Novaya Shkola (in Russian).
Zuckerman G., Venger A.L. 2010. Razvitie ucebnoi samostoyatel'nosti. Moskva: OIRO.