Previous issue (2020. Vol. 16, no. 4)
Included in Scopus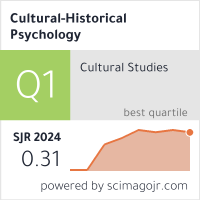 Literacy Practices of Children and Their Mothers in a Specific Social and Cultural Context: Generating New Social Practices

712
Méndez M.J.
Candidate, City of San Luis Potosi, City of San Luis Potosi, Mexico
e-mail: juanitamendezg@hotmail.com
This qualitative research is focused on understanding the literacy practices of children and their mothers in a social and cultural context of the state of San Luis Potosí, central Mexico. I will address the results of field work analysis based on the historical cultural approach. I will show how a mother's participation in literacy practices with a group of elementary school first graders detonated their process of empowerment and generated new social practices that arose from the actors in the educational community, through symmetrical relationships between children, mothers and teachers. The main results addressed are the acceptance of a mother's participation in literacy practices in her context; intercultural relations identified in social practices through orality, reading, and writing, with reflection on the social and cultural context of their reality and with the performance of a play; and finally, the generation of new social practices in the classroom and in the context.
Keywords: interaction, cultural context, social practices, literacy practices
Column: Empirical Research
I based the article on the field work results of qualitative research from an ethnographic perspective. The analysis presented is based on the cultural-historical theory, developed in a specific cultural and vulnerable context, located in the state of San Luis Potosí, Mexico, from September 2013 to January 2015, during the first eight months of which I worked as a teacher and researcher.
Bertely M. Conociendo nuestras escuelas. Un acercamiento etnográfico a la cultura escolar. México: Paidós, 2000. 131 p.

Comisión Económica para América Latina y el Caribe. Panorama social de América Latina. Santiago de Chile: CREPAL, 2000. 312 p.

Chartier R. On the Edge of the Cliff: History, Language, and Practices. Baltimore-Londres: The Johns Hopkins University Press, 1997. 191 p.

Fierro C., Fortoul B. Propuesta metodológica de intervención docente para el aprendizaje y la convivencia en contextos vulnerables. Orientaciones para el trabajo de campo. Documento de trabajo. México, 2014. 17 p.

Freire P. Pedagogía del oprimido. Buenos Aires: Siglo XXI Editores, 1970. 171 p.

Freire P. Cartas a quien pretende enseñar. 9ª ed. México: Siglo XXI Editores, 2004. 141 p.

Freire P. La importancia de leer y el proceso de liberación. 16ª ed. México: Siglo XXI Editores, 2004. 176 p.

Instituto Nacional de Estadística y Geografía, 2010 [Electronic document]. URL: http://www.inegi.org.mx (Accessed 10.09.2017)

Kalman J. Saber lo que es la letra. Una experiencia de lectoescritura con mujeres de Mixquic. México: Siglo XXI Editores, 2004. 190 p.

Kalman J. Discusiones conceptuales en el campo de la cultura escrita. Revista iberoamericana de educación, 2008. Vol. 46, pp. 107—134.

Kozulin A. Instrumentos psicológicos. La educación desde una perspectiva sociocultural. Barcelona: Paidós, 2000. 205 p.

Lerner D. Leer y escribir en la escuela. Lo real, lo posible y lo necesario. México: SEP, 2004. 193 p.

López-Bonilla G., Pérez C. Lenguaje y educación. Temas de investigación educativa en México. México: Fundación SM, 2013. 318 p.

Meek M. En torno a la cultura escrita. México: FCE, 2004. 347 p.

Plinio A., Márquez G. El olor de la guayaba. Conversaciones con Gabriel García Márquez. México: Diana, 2010. 168 p.

Schmelkes S. Educación intercultural. Reflexiones a la luz de experiencias recientes. Revista Sinéctica, 2003. Vol. 23, 26—34.

Rubtsov V.V. Scientific school of L.S. Vygotsky: traditions and innovations symposium (27—28 June 2016). Moscow: Moscow State University of Psychology & Education, 2016. 342 p.

Street B.V. Literacy in Theory and Practice. Cambridge, Nueva York, Nueva Rochelle, Melbourne y Sydney. (Cambridge Studies in Oral and Literate Culture Series, 9), Cambridge University Press 1984. 243 p.

Street B.V. Understanding and defining literacy. Paper commissioned for the EFA Global Monitoring Report 2006, Literacy for Life. UNESCO, 2005. 25 p.

UNESCO. Alfabetización para el desarrollo sostenible y el empoderamiento de las mujeres. Hamburgo: UNESCO, 2014. 39 p.

Veresov N. Introducing cultural historical theory: main concepts and principles of genetic research methodology. Cultural-Historical Psychology, 2010. Vol. 4, pp. 83—90.

Vygotsky L.S. El desarrollo de los procesos psicológicos superiores. (Trad. Español, Silvia Furió). Barcelona: Editorial Crítica, 1979. 226 p.

Vygotsky L.S. Thought and Language. (Translation. Alex Kozulin). London: The MIT Press, 1986. 307 p.