Previous issue (2021. Vol. 26, no. 3)
Included in Scopus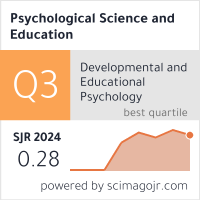 Psychological Science and Education
2004. Vol. 9, no. 2, 30–35
ISSN: 1814-2052 / 2311-7273 (online)
The Relation of a Person's Psychological Defense with the Self-realization Process

1584
Bogomolov A.M.
Assistant at the General and Developmental Psychology Chair, Social Psychology Department, PhD student at Psychology and Education Chair, Kemerovo State University, Kemerovo, Russia
e-mail: meabam@inbox.ru
Portnova A.G.
PhD in Psychology, доцент кафедры общей психологии и психологии развития Кемеровского государственного университета, Russia
e-mail: portall@kemtel.ru
The article contains the theoretical analysis of the person's psychological defense problem, the relations of revealing psychological defense mechanisms with a person's realization process at the period of his or her intensive forming. The authors consider the core structural and dynamic properties of the psychological defense system.
Ancyferova L.I. Lichnost' v trudnyh zhiznennyh uslovijah: pereosmyslivanie, preobrazovanie situacij i psihologicheskaja zawita // Psihologicheskij zhurnal. 1994. T. 15. №1.
Bassin F.V. O «sile Ja» i «psihologicheskoj zawite» // Voprosy filosofii. 1969. №2.
Bassin F.V., Burlakova M.K., Volkov V.N. Problema psihologicheskoj zawity // Psihologicheskij zhurnal. 1988. T. 9. №3.
Vasiljuk F.E. Psihologija perezhivanija (analiz preodolenija kriticheskih situacij). M., 1984.
Granovskaja R.M., Nikol'skaja I.M. Zawita lichnosti: psihologicheskie mehanizmy. SPb., 1999.
Docenko E.L. Psihologija manipuljacii: fenomeny, mehanizmy i zawita. M., 1997.
Zejgarnik B.V. Oposredovanie i samoreguljacija v norme i patologii // Vestnik Mosk. un-ta. Ser. 14. Psihologija. 1981. №2.
Kalmykova E.S. Mehanizmy psihologicheskoj zawity i ih rol' v razvitii lichnosti // Metodologicheskie i teoreticheskie problemy sovremennoj psihologii. M., 1988.
Kirshbaum Je.I., Eremeeva D.I. Psihologicheskaja zawita. M., 2000.
Psihologija / Pod red. Krylova. M., 2002.
Psihologija: Slovar' / Pod obw. red. A.V. Petrovskogo, M.G. Jaroshevskogo. 2-e izd., ispr. i dop. M., 1990.
Romanova E.S., Grebennikov L.R. Mehanizmy psihologicheskoj zawity. Genezis. Funkcionirovanie. Diagnostika. Mytiwi, 1996.
Rybalko E.F., Tulup'eva T.V. Rol' psihologicheskoj zawity v samorealizacii lichnosti v period rannej junosti // Psihologicheskie problemy samorealizacii lichnosti. Vyp. 3 / Pod red. L.A. Golovej, L.A. Korostylevoj. SPb., 1999.
Sokolova E.T. Samosoznanie i samoocenka pri anomalijah lichnosti. M., 1989.
Tulup'eva T.V. Psihologicheskaja zawita i osobennosti lichnosti v period rannej junosti. SPb., 2000.
Freud A. Psihologija Ja i zawitnye mehanizmy. M., 1993.
Shtroo V.A. Issledovanie gruppovyh zawitnyh mehanizmov // Psihologicheskij zhurnal. 2001. №1.
Jurkova M. V. Struktura i dinamika zawitnyh mehanizmov lichnosti v processe ee socializacii: Avtoref. dis. … kand. psihol. nauk. Jaroslavl', 2000.