Previous issue (2021. Vol. 26, no. 5)
Included in Scopus
Powered by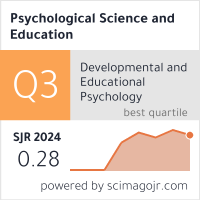 Psychological Science and Education
2005. Vol. 10, no. 1, 9–15
ISSN: 1814-2052 / 2311-7273 (online)
Teacher's Psychological and Pedagogical Difficulties in Development of Coherent Monologic Speech of Preschool Children

1079
Speech opportunities of children considerably increase at preschool age and the correct use of them have the great impact on the timely mastering of the coherent monologic speech. Modern conditions of preschool education are determined by the great number of various programs. The analysis of realization of educational programs in preschool institutions revealed a number of psychological-pedagogical difficulties of the teachers which prevent children from mastering the coherent monologic speech during sensitive period. The basic problems are emotional and communicative barriers in communication, insufficient comprehension of speech development laws of preschool children, use of reproductive training methods.
Keywords: coherent monologic speech, professional competence, realization of various programs, innovational search, analytical activity, the traditional approach in training, standartization of behaviour, emotional barriers, psychological defence.
Column: Educational Psychology
Borodich A.M. Metodika razvitija rechi detej. M., 1974.
Brudnyj A. K probleme ponimanija teksta // Issledovanie rechemyslitel'noj dejatel'nosti. Alma-Ata, 1974.
Venger L. Kak uskorit' process ponimanija skazki// Doshkol'noe vospitanie. 1991. № 5.
Venger L. O chem rasskazyvaet skazka // Doshkol'noe vospitanie. 1994. № 5.
Gal'perin P.Ja. Psihologija kak ob#ektivnaja nauka / Pod red. A.I. Podol'skogo. M., 1998.
Gerbova V.V. Zanjatija po razvitiju rechi s det'mi 2–4 let. M., 1993.
Gurovich L.M., Beregovaja L.B., Loginova V.I. Rebenok i kniga. SPb., 1999.
Zaporozhec A.V. Psihologija vosprijatija rebenkom-doshkol'nikom literaturnogo proizvedenija // Trudy Vserossijskoj nauchnoj konferencii po doshkol'nomu vospitaniju. M., 1949.
Zinchenko P.I. Neproizvol'noe zapominanie / Pod red. V.P. Zinchenko, V.G. Mewerjakova. M., 1996.
Karpinskaja N.S. Razvitie hudozhestvennyh sposobnostej doshkol'nikov v processe Igry-dramatizacii // Izvestija Akademii ped. nauk RSFSR. 1950. Vyp. 100.
Korotkova Je.P. Beseda kak sredstvo razvitija rechi u detej doshkol'nogo vozrasta. M., 1977.
Leont'ev A.A. Vnutrennjaja rech' i processy grammaticheskogo porozhdenija vyskazyvanija// Voprosy porozhdenija rechi i obuchenija jazyku. M., 1967.
Lurija A.R. Jazyk i soznanie / Pod red. E.D. Homskoj. Rostov n/D, 1998.
Nikiforova O.I. Psihologija vosprijatija hudozhestvennoj literatury. M., 1972.
Podymov N.A. Psihologicheskie bar'ery v pedagogicheskoj dejatel'nosti. M., 1998.
Rubinshtejn S.L. Osnovy obwej psihologii. T.1. M., 1989.
Slastenin V.A., Podymova L.S. Pedagogika: innovacionnaja dejatel'nost'. M., 1997.
Teplov B.M. Psihologicheskie voprosy hudozhestvennogo vospitanija // Izvestija Akademii ped. nauk RSFSR. 1947. Vyp. 11.
Ushakova O.S. Programma razvitija rechi detej doshkol'nogo vozrasta v detskom sadu. M., 1994.
Jel'konin D.B. Psihologicheskoe razvitie v detskih vozrastah. M., 1997.