Previous issue (2021. Vol. 26, no. 4)
Included in Scopus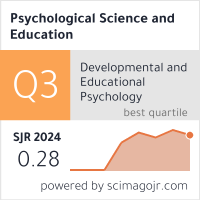 Psychological Science and Education
2005. Vol. 10, no. 4, 30–37
ISSN: 1814-2052 / 2311-7273 (online)
Theoretical bases of social-and-psychological rehabilitation of persons with deep visial impairment

2320
The system of complex rehabilitation of blind and visually impaired people should be carried out taking into account psychological components of rehabilitation process the absence of which reduces the efficiency of medical factors influence and prevents individual programs of improvement of the given contingent from better development. The given materials contain theoretical data (without practical data) about the structure of socio-psychological rehabilitation of the persons who significant visual difficulties and reflect the urgency and necessity of embedding the psychological forms and methods of work into the rehabilitation experts' practice.
Keywords: socio-psychological rehabilitation, psychosocial rehabilitation, psychic health, social status, rehabilitation potential, successful adaptation
Babadzhanyan M.G. Psihofiziologicheskie osnovy nauchnoi organizacii truda slepyh na predpriyatiyah VOS. M., 1970.
Belinskii A.V. Urovnevyi podhod k optimizacii psihicheskoi deyatel'nosti voennyh specialistov // Aktual'nye problemy medicinskoi reabilitacii: Sbornik nauchnyh trudov. M., 1995.
Bogun O.A. Psihologicheskie osobennosti lic s narusheniem zreniya // Specializirovannaya medicinskaya pomosh' i problemy serdechno-sosudistoi patologii pri zabolevaniyah, travmah, raneniyah: Tezisy dokladov nauchno-prakticheskoi konferencii 6 dekabrya 2002 g. M., 2002.
Boiko O.V. Ohrana psihicheskogo zdorov'ya. M., 2004.
Ermolovich Z.G. Psihologo_pedagogicheskie aspekty reabilitacii invalidov po zreniyu // Psihologicheskoe obespechenie elementarnoi reabilitacii slepyh. M., 1988.
Korobov M.V., Dvorkin E.A., Dedeneva Zh.G. Shelomanova T.N. Organizaciya i metodika razrabotki individual'noi programmy reabilitacii. SPb., 1999.
Litvak A.G. Ocherki psihologii slepyh I slabovidyashih. L., 1972.
Lyamin M.V. Osobennosti psihoterapevticheskoi korrekcii posttravmaticheskih psihicheskih rasstroistv u voennosluzhashih // Sovremennye napravleniya psihoterapii i ih klinicheskoe primenenie: Materialy Pervoi Vserossiiskoi konferencii po psihoterapii. M., 1996.
Neumyvakin A.Ya., Gililov E.I. Social'no-trudovaya reabilitaciya invalidov: otechestvennyi I zarubezhnyi opyt. SPb., 2001.
Silkin L.N. Psihologicheskoe obespechenie elementarnoi reabilitacii slepyh. M., 1982.
Silkin L.N. Psihologicheskaya diagnostika lichnosti i psihoterapiya invalidov po zreniyu. M., 1984.
Fizicheskaya reabilitaciya: Uchebnik / Pod obshei red. prof. S.N. Popova. Rostov n/D, 2004.
Hrustalev S.A. Rabota s licami so snizhennoi adaptaciei. M., 1990.
Shakiro N.L. Social'naya reabilitaciya lichnosti invalida // Reabilitaciya i my: Sb. statei. Irkutsk, 2002.