Previous issue (2021. Vol. 26, no. 3)
Included in Scopus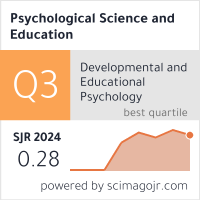 Psychological Science and Education
2010. Vol. 15, no. 1, 13–20
ISSN: 1814-2052 / 2311-7273 (online)
Professional Competence Criteria of Educational Psychologists

3433
Konovalova I.V.
PhD in Psychology, Dean, The faculty of advanced studies, Moscow state psychological-pedagogical University, Moscow, Russia
e-mail: ivkonovalova@yandex.ru
Margolis A.A.
PhD in Psychology, Rector, Professor, Chair of Pedagogical Psychology, Moscow State University of Psychology & Education, Moscow, Russia
ORCID: https://orcid.org/0000-0001-9832-0122
e-mail: margolisaa@mgppu.ru
The problem of assessment of an educational psychologist's professional competence is discussed in the article. The authors outline criteria-based positions of an educational psychologist's activity assessment. Particular attention is paid to the work with young specialists. The certification form applying criteria for analysis of activity and revealing level of a novice educational psychologist's readiness for self-contained practice was proposed. The article is of practical significance for education content specialists, educational institutions administration, lecturers of higher educational institutions as well as for practicing psychologists striving for professional development.
Keywords: professional competence, an educational psychologist's professionalism, effectiveness of activity, criteria-based positions of an educational psychologist, professional adaptation, traineeship, mentoring, portfolio, certification, analysis of activity, competence criteria
Column: Educational Psychology
Borisova E. M., Loginova G. P. Individual'nost' i professiya. M., 1991.
Dubrovina I. V. Psihologicheskaya sluzhba obrazovaniya. Nauchnye osnovaniya, celi, sredstva // Psihologicheskaya nauka i obrazovanie. 1998. № 2.
Ivanova E. M. Osnovy psihologicheskogo izucheniya professional'noi deyatel'nosti. M., 1987.
Karandashev V. N. Vvedenie v professiyu pedagog-psiholog. M., 1999.
Klimov E. A. Psihologiya professionala. M.- Voronezh, 1996.
EuroPSY Evropeiskii diplom po psihologii // Developing a European Diploma in Psychology
Spravochnik vypusknika fakul'teta psihologii i konsul'tirovaniya Universiteta Central'nogo Arkanzasa (SShA). Universitet Central'nogo Arkanzasa (SShA), 2007.