Previous issue (2021. Vol. 26, no. 3)
Included in Scopus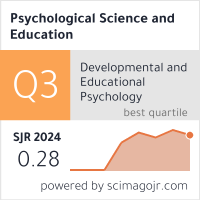 Psychological Science and Education
2010. Vol. 15, no. 4, 8–29
ISSN: 1814-2052 / 2311-7273 (online)
Theoretical and / or Polyphonic Thinking

1097
Zinchenko V.P.
PhD in Psychology, Full Member, Professor of the Institute of General Secondary Education of RAS, Professor of the Department of General and Experimantal Psychology of "Higher School of Economy" State University, Russain Academy of Science (RAS), Moscow, Russia
The article is devoted to the 80th anniversary of the prominent psychologist and educator – V. V. Davydov, who (together with D. B. Elkonin) has developed psychological base and pedagogical practices of the developing education. The main focus of the elaborated program was the development of theoretical thinking and the formation of readiness to thought and the ability for conceptual thought among school children. The article is an attempt to apply conceptualizations developed by V.V. Davydov to the analysis of thinking as such.The greatest attention is given to reflection and intuition.
Adamar Zh. Issledovanie psihologii processa izobretenija v oblasti matematiki. M., 1970.
Bahtin M. M. Raboty 20-h godov. Kiev, 1994.
Bibihin V. V. Aleksej Fedorovich Losev. Sergej Sergeevich Averincev. M., 2005.
Bibihin V. V. Mir. Kurs, prochitannyj na filosofskom fakul'tete MGU vesnoj 1989 goda. SPb., 2007.
Bibihin V.V. Jazyk filosofii. M., 1993.
Bion Wilfrid R. Nauchenie cherez opyt perezhivanija. M., 2008.
Wertgeimer M. Produktivnoe myshlenie. M., 1967.
Vygotsky L. S. Sobranie sochinenij: V 6 t. M., 1982–1984.
Gordeeva N. D. Jeksperimental'naja psihologija ispolnitel'nogo dejstvija. M., 1995.
Gordeeva N. D., Zinchenko V. P. Rol' refleksii v postroenii predmetnogo dejstvija // Chelovek. 2001. № 6.
Grinberg Leon, Sor Dario, Tabak de b'janchedi Jelizabet. Vvedenie v raboty Biona: Gruppy, poznanie, psihozy, myshlenie, transformacija, psihoanaliticheskaja praktika. M., 2007.
Grossman L. Dostoevskij. M., 1965.
Davydov V. V. Problemy razvivajushego obuchenija. M., 1986.
Dewey J. Psihologija i pedagogika myshlenija. M., 1999 .
Zinchenko V. P. Gotovnost' k mysli // Voprosy psihologii. 2005. № 4.
Zinchenko V. P. Doopytnaja gotovnost' ovladenija slovom i priobshenija k kul'ture // Kul'turnoistoricheskaja psihologija. 2010. № 2.
Zinchenko V. P. Mysl' i slovo: podhody L. S. Vygotskogo i G.G. Shpeta // Tochki – Puncta, 2003. № 3–4.
Zinchenko V. P. Mysl' i slovo: podhody L. S. Vygotskogo i G. G. Shpeta (prodolzhenie raz govora) // Gustav Shpet i sovremennye problemy gumanitarnogo znanija. M., 2006.
Zinchenko V. P. Psihologicheskie osnovy pedagogiki (psihologo-pedagogicheskie osnovy postroenija sistemy razvivajushego obuchenija D. B. El'konina – V. V. Davydova). M., 2002.
Zinchenko V. P. Samorazvitie duha (pamjati druga) // Voprosy psihologii. 1998. № 5.
Zinchenko V. P. Teoreticheskie problemy psihologii vosprijatija // Inzhenernaja psihologija. M., 1964.
Zinchenko V. P., Mamardashvili M. K. Problema ob'ektivnogo metoda v psihologii // Voprosy filosofii. 1977. № 7.
Il'enkov Je. V. Shkola dolzhna uchit' myslit'. M.-Voronezh, 2002.
Istorija odnoj konferencii, rasskazannaja V. V. Davydovym Zhaku Karpeju 13.06.94 // Kul'turno-istoricheskaja psihologija. 2005. № 1.
Mamardashvili M. K. Kantianskie variacii. M., 1997.
Mandel'shtam O. Slovo i kul'tura. Razgovor o Dante. Stat'i. Recenzii. M., 1987.
Ortega-i-Gasset H. Razmyshlenija o «Don Kihote ». M., 1977.
Petrov M. K. Filosofskie problemy «nauki o nauke». Predmet sociologii nauki. M., 2006.
Pyatigorsky A. M. Myshlenie i nabljudenie. Chetyre lekcii po observacionnoj filosofii / Riga, 2002.
Florenskij P. A. U vodorazdelov mysli. T. 2. M., 1990.
Florenskij Pavel, svjashennik. Detjam moim. Vospominanija proshlyh dnej i dr. M., 1992.
Frank S. L. Zhivoe znanie. Berlin, 1923.
Heidegger M. Istok hudozhestvennogo tvorenija. Izbrannye raboty raznyh let. M., 2008.
Tsukerman G. A. Uslovija razvitija refleksii u shestiletok // Voprosy psihologii. 1989. № 2.
Tsukerman G. A. Ideja refleksivnogo razvitija kak cennostnoe osnovanie psihologii uchebnoj dejatel'nosti // Pervye chtenija pamjati V. V. Davydova. Riga-Moskva,1999.
Tsukerman G. A. Razvitie refleksii posredstvom obuchenija // Psihologija razvitija / Pod red. T. D. Marcinkovskoj. M., 2005.
Shpet G. G. Philosophia Natalis. Izbrannye psihologo-pedagogicheskie trudy / Otv. redaktorsostavitel' T. G. Wedrina. M., 2006.
Shpet G. G. Mysl' i slovo. Izbrannye trudy. M., 2005.
Shpet G. G. Iskusstvo kak vid znanija. Izbrannye trudy po filosofii kul'tury. M., 2007.
Shpet G. G. Filosofskie jetjudy. M., 1994.