Previous issue (2021. Vol. 26, no. 4)
Included in Scopus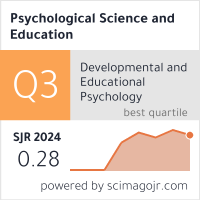 Psychological Science and Education
2011. Vol. 16, no. 4, 5–14
ISSN: 1814-2052 / 2311-7273 (online)
National policy in the sphere of gifted learners education

1635
Margolis A.A.
PhD in Psychology, Rector, Professor, Chair of Pedagogical Psychology, Moscow State University of Psychology & Education, Moscow, Russia
ORCID: https://orcid.org/0000-0001-9832-0122
e-mail: margolisaa@mgppu.ru
Rubtsov V.V.
Doctor of Psychology, Professor, Academician of the Russian Academy of Education, President, Head of the International UNESCO Chair «Cultural-Historical Psychology of Childhood», Moscow State University of Psychology & Education (MSUPE), Moscow, Russia
ORCID: https://orcid.org/0000-0002-2050-8587
e-mail: rubtsovvv@mgppu.ru
The article analyzes foreign models of educational policy concerning gifted learners, compares results of comparative and national studies, examines the possibility of construction of educational policy concerning gifted learners in the Russian Federation in the context of international experience.
Keywords: gifted learners, talents, educational policy, gifted learners education
Column: Educational Psychology
Brown E., Avery L.,VanTassel-Baska J., Worley B. B. & Stambaugh, T. Legislation and Policies:
Effects on the Gifted. A Five-State Analysis of Gifted Education Policies // Roeper Review, Fall 2006.
V. 29. № 1.
Colceag F. Gifted Education in Romania. – The Romania Consortium for the Education of Gifted
and Talented Children and Youth, 2007. http://www.slideshare.net/ramoncik/gifted-education-2007.
Gifted Learners: A Survey of Educational Policy and Provision / Ed. Simona D'Alessio. – European
Agency for Development in Special Needs Education, 2009. http://www.tehetsegpont.hu/dokumentumok/gifted.pdf.
Expanding the Federal Role in Gifted and Talented Education. Issue brief. – Council for Exceptional Children, June 2010. http://www.cec.sped.org/Content/NavigationMenu/PolicyAdvocacy/CECPolicyResources/GiftedTalented/Gifted_Issue_Brief_June_2010.doc.
Mönks F. J. & Pflüger R. Gifted Education in 21 European Countries: Inventory and Perspective. – Radboud University Nijmegen, 2005. http://www.bmbf.de/pub/gifted_education_21_eu_countries.pdf.
Policy Statement Gifted and Talented Children and Students Policy. – Government of South Australia, Department of Education and Children's Services, 2010. http://www.decs.sa.gov.au/docs/documents/1/GiftedChildrenandStudents.pdf.
Rationale and Principles of Gifted Education Policy in Hong Kong. – Education Bureau, the Government of the Hong Kong Special Administrative Region, 2007. http://www.edb.gov.hk/index.aspx?langno=1&nodeID=2377.
Sum Chee Wah Policy and Implementation Paradigm for Gifted Education in Singapore (Unpublished
manuscript) http://www.ntnu.edu.tw/spe/cage/30/paper1-Gifted%20Education%20in%20Singaporeh.pdf.