Previous issue (2021. Vol. 26, no. 3)
Included in Scopus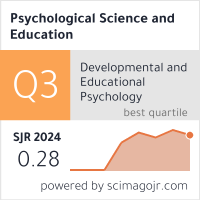 Psychological Science and Education
2013. Vol. 18, no. 2, 43–50
ISSN: 1814-2052 / 2311-7273 (online)
The role of episodic family deprivation in the formation of self-attitude and attitude to parents in late adolescence

1243
Rubchenko A.K.
PhD in Psychology, PhD in Psychology, Associate Professor, Chair of Psychology, Institute for Nuclear Power Engineering, MEPhI National Research Nuclear University
Gonchar I.V.
Senior Lecturer, Chair of Psychology, Institute for Nuclear Power Engineering, MEPhI National Research Nuclear University
We present the results of empirical studies on the effects of different types of episodic family deprivation (paternal, maternal, parental) in childhood on formation of an attitude to self and to parents in late adolescence. We test the hypothesis that depending on the type of episodic family deprivation, either negative or conflict attitude to self, and distanced attitude to parents, is formed in males and females. Participants in the study were 270 males and females aged 19–22 years. For the self-attitude diagnosis we used the method of self-attitude estimation by S.R. Pantileev; the attitude to parents was measured using "Incomplete sentences" method; the extent and types of familial deprivation were determined using author's questionnaire. We found that parental deprivation in males and paternal deprivation in females contribute to the formation of negative self-attitude, and maternal deprivation both in males and females – to ambivalent self-attitude. We showed mixed effects of different types of family deprivation on the attitude of young people to their parents.
Keywords: episodic family deprivation, maternal, paternal and parental deprivation, self-attitude, attitude to father, attitude to mother, late adolescence.
Column: Developmental Psychology
Asper K. Psihologija narcissicheskoj lichnosti. Vnutrennij rebenok i samoocenka. M., 2008.
Kolyshko A. M. Psihologija samootnoshenija. Grodno, 2004.
Mak-Vil'jams N. Psihoanaliticheskaja diagnostika. Ponimanie struktury lichnosti v klinicheskom processe / per. s angl. M., 2001.
Rutter M., Madge N. Cycles of Disadvantage. London, 1976.