Previous issue (2021. Vol. 26, no. 2)
Included in Scopus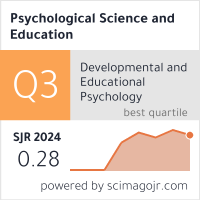 Creating variable developmental situations in primary school lessons

988
Zaitsev S.V.
PhD in Psychology, Moscow State University of Psychology and Education, senior researcher at the Pedagogical psychology chair of the Educational psychology faculty, associate professor, Moscow State University of Psychology and Education, Moscow, Russia
e-mail: loo-site@rambler.ru
The paper discusses the intensity of learning motivation in university students of various forms, stages and courses of education and its relationship with personal reflection. Large amounts of empirical data obtained in this research allow us to assert that the adequacy of learning motivation is higher in graduate students than in undergraduate students, the latter demonstrating the highest rates in their first year of study and the lowest in the third. Motivation rates in part-time undergraduate students tend to decrease during the first three years at university; however, the rates increase in the fourth year. We also compared learning motivation in respondents with different levels of reflective thinking. Asit was revealed, adequate motivation and motives for acquiring the profession were higher in students with high levels of reflection as compared to those displaying average and low levels. Moreover, the highest rates of reflection were found in students who planned to pursue their profession and knew exactly in which field, whereas the lowest rates were common for students who were not certain as to whether their work would correspond with their major discipline.
Keywords: individual characteristics of learning, variable developmental situation, regulatory learning action, means of accomplishing learning actions
Column: Educational Psychology
Zaitsev S.V. Situatsiya vybora kak sredstvo diagnostiki uchebnoi motivatsii i samootsenki u mladshikh shkol'nikov [The situation of choice as a means of diagnosing educational motivation and selfesteem in younger schoolchildren]. Voprosy psikhologii [Issues of Psychology], 2009, no. 5, pp. 54-64.
Zaitsev S.V., Dobryakova O.I. Osobennosti izmeneniya individual'nykh predpochtenii mladshikh shkol'nikov v protsesse obucheniya [Elektronnyi resurs] [Features of changing individual preferences of younger schoolchildren in the learning process]. Psikhologicheskaya nauka i obrazovanie PSYEDU.ru [Psychological Science and Education PSYEDU.ru], 2014, no. 1. Available at: https://psyjournals.ru/psyedu_ ru/2014/n1/68102.shtml (Accessed 30.05.2014). (In Russ., Abstr. in Engl.).
Kalmykova Z.I. Psikhologicheskie printsipy razvivayushchego obucheniya [Psychological principles of developmental learning]. Moscow: Publ. Znanie, 1979. 48 p.
Kolb D.A. Learning Style Inventory: Technical manual. New-York: Prentice-Hall, 1976.