Previous issue (2021. Vol. 17, no. 1)
Included in Scopus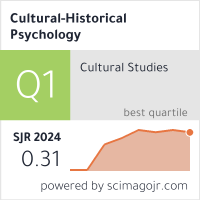 Alexander Vladimirovich Zaporozhets: life and creative work (from sensory action to emotional)
Zinchenko V.P.
PhD in Psychology, Full Member, Professor of the Institute of General Secondary Education of RAS, Professor of the Department of General and Experimantal Psychology of "Higher School of Economy" State University, Russain Academy of Science (RAS), Moscow, Russia
The article focuses on the important milestones in the life of A.V. Zaporozhets and traces the origins of his interest in psychology of action. The bases of A.V. Zaporozhets' understanding of action as free and voluntary stem from the «theatrical period» of his life. Further studies that were first carried out under the guidance of L.S. Vygotsky, and then in a fruitful collaboration with Vygotsky's disciples, were devoted to the search for an adequate understanding of the inner essence of action. At first A.V. Zaporozhets studied perceptional actions and psychology of perception and carried out several researches on the development of thought in children; then he turned to studying voluntary actions. The interest in inner emotional life and its aspects concerning the meaning of life, which had brought him in psychology, was realized at the end of his life, when he turned to studying emotions in preschool children.
Keywords: A.V. Zaporozhets, L.S. Vygotsky, action, voluntary action, personality
Column: Memorable Dates
Zaporozhets A.V. Izbrannye psichologicheskie trudy: V 2 t. Т. 1. М., 1986.
Ivanov Vyach. Borozdy i Mezhi. М., 1916.
Kozintcev G. Prostranstvo tragedii. М., 1973.
Mandel'shtam 0. Yachontov // Ekran. 1927. №31.
Mareeva E.V. Semyon Frank kak zerkalo russkoi religioznoi filosofii // 2005. №6.
Frank S.L. Predmet znaniya. Dusha cheloveka. М., 1995.