Previous issue (2021. Vol. 17, no. 2)
Included in Scopus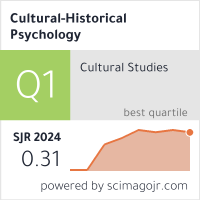 L.S. Vygotsky's Theory and Cross-cultural Differences in Ingroup Identification (Joint Russian-American Research)

1161
This research represents an attempt to contribute to cross-cultural psychology development on the part of the Russian science of psychology, since an outstanding Russian psychologist and thinker L.S. Vygotsky was among the founders of cross-cultural psychology. The presented research consists in a factor analysis of ingroup ethnocultural identity of Russian and American respondents. Respondents have been offered a questionnaire of Multigroup Ethnic Identity Measure by J. P. Phinney. The principal idea by L. S. Vygotsky on the intrapsychic being born out of the interpsychic has been supported with its empirical evidence. Cross-cultural differences in the structure of ingroup identification priorities of the Russian and American respondents have been revealed.
Vygotskii L.S. Problema kul'turnogo razvitiya rebenka //Vestn. Mosk. unta. Ser. 14. Psihologiya. 1991. № 4.
Vygotskii L.S. Sobranie sochinenii: V 6 t. M., 1983.
Atkinson D.R., Morten G., Sue D.W. Counseling American Minorities: A CrossCultural Perspective. Dubuque, Iowa, 1979.
Berry J. Psychology of Acculturation // Nebraska Symposium on Motivation: CrossCultural Perspectives. Lincoln, 1990.
Berry J.W. Ethnic Identity in Plural Societies // Ethnic Identity: Formation and Transmission among Hispanics and Other Minorities. New York: State University of N.Y., 1993.
Cheek J.M. Identity Orientations and Self Interpretation // D.M. Buss & N. Cantor (Eds.) Personality Psychology: Recent Trends and Emerging Directions. N.Y., 1989.
Encyclopedia of Psychology / Ed. by A. Kazdin. 8 Vols. Oxford, N.Y., 2000. Vol. 2.
Lindesmith A.R., Strauss A.L., Denzin N.K. Social Psychology. Thousand Oaks: Sage Publications, 1999.
Marcia J.E. et al. Ego Identity: A Handbook for Psychosocial Research. N.Y., 1993.
Matteson D.R. Alienation vs. Exploration and Commitment: Personality and Family Correlaries of Adolescent Identity Statuses: Rapport fra Projekt for Ungdomsforskning. Kobenhavn: Projekt for Ungdomsforskning, 1974.
Phinney J. The Multigroup Ethnic Identity Measure: A New Scale for Use with Adolescents and Young Adults from Diverse Groups // Journal of Adolescent Research. 1992. No. 7.
Phinney J.P., Landin J. Research Paradigm for Studying Ethnic Minority Families Within and Across Groups // Studying Minority Adolescents. Conceptual, Methodological and Theoretical Issues. Mahwah, New Jersey, London, 1998.
Shotter J. Cultural Politics of Everyday Life: Social Constructionism, Rhetoric and Knowing of the Third Kind. Toronto: University of Toronto, 1993.
Tajfel H. Social Categorization. English MS. of La Categorisation Sociale // Introduction а la psychologie sociale. Vol. I. Paris, 1972.
Tajfel H. Differentiation Between Social Groups: Studies in the Social Psychology of Intergroup Relations. European Monographs in Social Psychology, No. 14. London, 1978.
Tajfel H. Human Groups and Social Categories. Studies in Social Psychology. Cambridge, 1981.