A.N. Leontiev's 120th Birth Anniversary in the Journal "Cultural-Historical Psychology"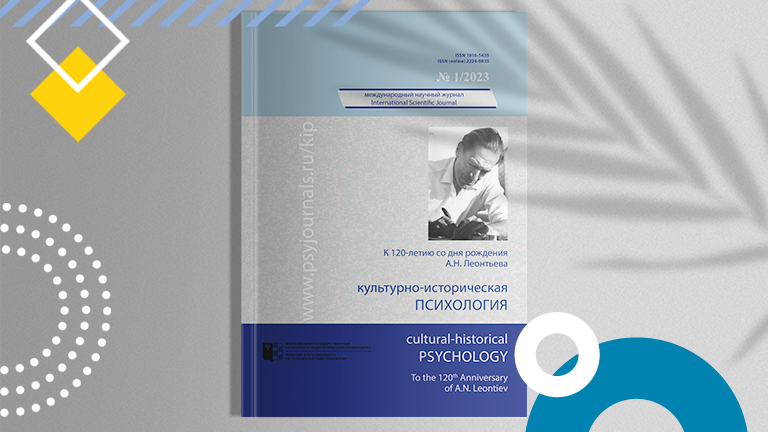 The first issue of the journal "Cultural-Historical Psychology" (No. 1-2023) has been released. It is devoted to A.N. Leontiev's 120th birth anniversary. One can get an insight about new developments of A.N. Leontiev's pupils — the followers of the activity theory — by reading the jubilee thematic section of the journal. As its editor-in-chief, Professor Boris Daniilovich Elkonin, Doctor in Psychology, said:
"From early 1920s to mid-1970s Alexei Nikolaevich has done such an amount of work that one cannot even name it. His Activity Theory, which he built up in its foundations, has been extensively written and spoken about. Albeit written, it is worth rereading these papers, assimilating the way of thinking they contain. To reread them along with mastering and understanding the structure of A.N. Leontiev's truly ingenious and unique experimental research. Thus, now, after decades, from the experimental studies on the emergence of feeling and… the emergence of musical hearing, considerations about the Activity Theory meaning are born anew…".
The issue also contains four headings: "Developmental Psychology", "Empirical Research" and "Theory and Methodology". The rubric "Developmental Psychology" presents the results of research on cultural actions in preschool children's play, factors in regulatory functions development, and the role of sleep perceptions among parents and children. The rubric "Empirical Research" provides an insight into the relationship between students' image of the world and their volunteering experience. The rubric "Theory and Methodology" is the final one. Here the particularities of the nature of generalizations are presented.