Previous issue (2021. Vol. 26, no. 3)
Included in Scopus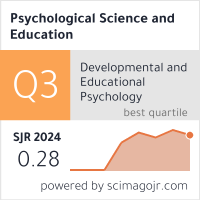 Psychological Science and Education
2007. Vol. 12, no. 5, 289–294
ISSN: 1814-2052 / 2311-7273 (online)
Psychological Characteristics of Adolescent Gang Offences

1168
Dozortseva E.G.
Doctor of Psychology, Chief Researcher of the Laboratory of Psychology of Child and Adolescence, FSBI «National Medical Research Center of Psychiatry and Narcology named after V.P. Serbsky» of the Ministry of Health of Russia, Moscow, Russia
ORCID: https://orcid.org/0000-0002-1309-0485
e-mail: edozortseva@mail.ru
Loginova E.V.
Organizes Scientific Events for Students, Postgraduates and Young Scientists, Moscow state psychological and pedagogical University, Moscow, Russia
The article analyses specifics of offences conducted by adolescents in a gang. The work presents results of empirical research on psychological characteristics of minor gang offences. Research included analysis of complex forensic psychological and psychiatric examinations' archives (examinations were conducted by Federal State Institution «State Scientific Centre of Social and Forensic Psychiatry named after V.P. Serbsky Federal Agency of Health Service and Social Development» in 2005–2006). Analysis of results shows differences between gang offences and crimes committed by individuals. The differences are related to motivation of unlawful acts, group characteristics, distribution of individual roles, etc. These findings can be used for a more thorough study of factors influencing adolescent gang offences.
Antonyan Yu. M. Social'naya sreda i formirovanie lichnosti prestupnika. M., 1975.
Bashkatov I. P. Psihologiya grupp nesovershennoletnih pravonarushitelei (Social'no-psihologicheskie osobennosti). M., 1993.
Platonov K. K. O sisteme psihologii. M., 1972.
Ratinov A. R., Lukashevich V. G. Lichnost' v prestupnoi gruppe. M., 1979.
Sidorenko E. V. Metody matematicheskoi obrabotki v psihologii. SPb., 1996.