Previous issue (2021. Vol. 26, no. 5)
Included in Scopus
Powered by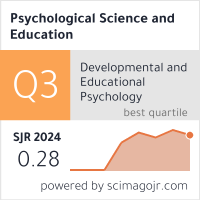 Psychological Science and Education
2006. Vol. 11, no. 4, 101–106
ISSN: 1814-2052 / 2311-7273 (online)
Economic Socialization of Social Orphans and Children from Orphanages

1177
Radina N.K.
Doctor of Political Science, PhD in Psychology, professor at the Department of Social Sciences, National Research University Higher School of Economics, Nizhniy Novgorod, Russia
ORCID: https://orcid.org/0000-0001-8336-1044
e-mail: rasv@yandex.ru
The article focuses on the notion of economic socialization - that is, on interiorization, eproduction and transformation of property relations - and addresses the problem of economic socialization of social orphans and children from orphanages. Among the factors that affect economic socialization of social orphans are: extreme poverty in their families; predominance of public property relations in orphanages; impersonal state support. The author describes the main principles of psychological work with orphans aimed at preventing them from being reduced to poverty.
Keywords: economic socialization, private property, public property, state institutions for orphans, poverty as socio-economic category
Column: Orphans Psychology
Deineka O.S. Ekonomiko-psihologicheskie posledstviya politiki perehodnogo perioda // Obshestvo i politika. Sovremennye issledovaniya, poisk koncepcii. SPb., 2000.
Dzheims U. Psihologiya. M. 1989.
Zhilina Zh.A. Psihicheskaya regulyaciya ekonomicheskoi socializacii detei starshego doshkol'nogo vozrasta. Avtoref. ... kand. psihol. nauk. Vladimir, 2005.
Zadorozhnyuk I.E. Ekonomicheskie psihologi o problemah socializacii // Voprosy psihologii. 2003. №1.
Inozemtsev V.L. Koncepciya postekonomicheskogo obshestva: teoreticheskie i prakticheskie aspekty. Dissertaciya na soiskanie stepeni doktora ekonomicheskih nauk. M., 1998.
Lutsenko A. Ekonomicheskaya psihologiya real'nogo socializma?/ Psihologicheskii zhurnal, 1991. T.12. № 5.
Muzdybaev K. Ekonomicheskaya deprivaciya, strategiya ee preodoleniya i poisk social'noi podderzhki. SPb., 1997.
Malakhov S.V. Ekonomicheskii chelove" i racional'nost' ekonomicheskoi deyatel'nosti (obzor zarubezhnyh issledovanii) // Psiholo­gicheskii zhurnal, 1990. T. 11. № 6.
Lebedev O.E., Maiorov A.N., Chepur­nyh E.E. i dr. Socializaciya i obrazovanie social'nyh sirot. Adaptaciya vypusknikov internatnyh uchrezhdenii dlya detei, ostavshihsya bez popecheniya roditelei / Pod red. A. N. Maiorova. M., 2002.
Polyakov V. A., Sasova I. A. Nepreryvnoe ekonomicheskoe obrazovanie molodezhi // Pedagogika. 1994. № 4.
Radaev V. V., Shkaratan O. I. Social'naya stratifikaciya. M. 1996.
Radina N. K., Pavlycheva T. N. Pozhilye vospitanniki detskogo doma: konstruirovanie zhizni v kontekste stigmatizacii deprivacionnogo detskogo opyta // Psihologii zrelosti i stare­niya. 2005. № 4 (32).
Radzikhovsky L.A. Ekonomicheskaya psihologiya real'nogo socializma // Psihologi­cheskii zhurnal. 1991. T.12. № 3.
Slutsky V.I. Fenomen obshestvennoi sobstvennosti i ego vliyanie na formirovanie lichnosti vospitannikov detskih domov // Voprosy psihologii. 2000. № 5.
Stivenson S.A. Ulichnye deti i tenevye gorodskie soobshestva / http: // WWW.I­U.RU.
Haiek F. A. Pagubnaya samodeyatel'nost'. Oshibki socializma / Pod red. U. U. Bartli. M. 1992.