Topics of the journal "Modern Foreign Psychology" for 2022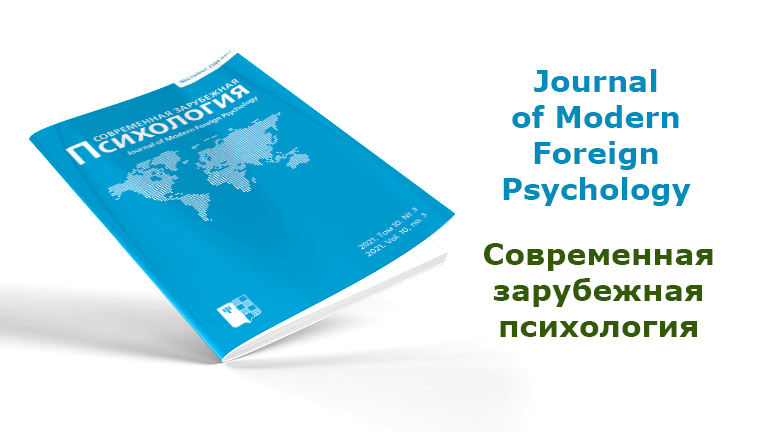 The editorial board of the journal starts accepting articles in the thematic issues of 2022. We accept articles covering systematized information on issues relevant to the declared topics (objects, problems, areas of activity), their state of the art, comparison of national and foreign experience, the level and tendencies of development with a reasoned critical assessment, conclusions and recommendations.
Topics of issues:
№1. Perinatal psychology (cut-off date January 31, 2022);
№2. Psychological portrait of a modern preschooler (cut-off date April 30, 2022);
№3. Organization of psychological assistance in the education system (cut-off date July 31, 2022).
№4. Psychological practices with proven effectiveness (cut-off date October 31, 2022).
The journal is included in DOAJ, RSCI and RSCI. In the Science Index ranking, the RSCI on the topic "Psychology" took in 2013 - 19th place (0.127), 2014 - 17th place (0.186), 2015 - 8th place (0.533), 2016 - 15th place (0.514), 2017 - 4th place (1.082), 2018 - 5th place (1.291), 2019 - 3rd place (2.085), 2020 - 4th place (2.672). Since 30.11.2017, it has been included in the List of peer-reviewed scientific publications in which the main scientific results of dissertations for the degree of Candidate of Sciences, for the degree of Doctor of Sciences should be published.
Editor-in-chief – Tatiana Ermolova, Candidate of Psychological Sciences, Head of the Department of Foreign and Russian Philology of the Moscow State University of Psychology and Education.
· Published since 2012 on the basis of the fundamental library of the FSBEI HE MSUPE
· Frequency of publication - 4 issues per year
· Rules of subediting, peer-review and publication of manuscripts in scientific journals of the FSBEI HE MSUPE http://psyjournals.ru/info/homestyle_guide/index.shtml
Submission of articles for publication is carried out on the website of the Electronic Edition (instructions for submitting a manuscript to the journal).
We will be glad to cooperate!