Previous issue (2021. Vol. 26, no. 3)
Included in Scopus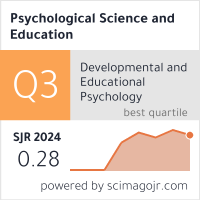 Psychological Science and Education
2008. Vol. 13, no. 2, 18–27
ISSN: 1814-2052 / 2311-7273 (online)
Professional Development in Students: Modeling Crisis Situations and Ways of Coping with Them

918
Mirzajanova L.Ph.
PhD in Psychology, Professor at the Psychology chair, Baranovichi State University. Corresponding member of Y.A. Kamenskiy International Slavic Academy of Education., Russia
e-mail: mirz@tut.by
The author proposes a scheme for modeling situations of developmental crises arising in students during their professional training and ways of coping with such situations. The paper describes psychological and pedagogical features of a joint creative learning activity technology that was implemented in didactic theatre within the course of General Psychology. Outcomes of such modeling within joint creative activity are presented as well.
Keywords: students, anticipatory adaptation, modeling crisis situations, professional reality, joint creative activity, didactic theatre
Column: Psychology of Higher Education
Bandura A. Teoriya social'nogo naucheniya. SPb., 2000.
Verbicky A. A. Aktivnoe obuchenie v vysshei shkole: kontekstnyi podhod. M., 1991.
Vygotsky L. S. Voobrazhenie i tvorchestvo v detskom vozraste // Psihologicheskii ocherk: kniga dlya uchitelya. M., 1991.
D'yachenko V. K. Sotrudnichestvo v obuchenii: O kollektivnom sposobe uchebnoi raboty: kniga dlya uchitelya. M., 1991.
D'yachenko M. I., Kandybovich L. A. Psihologicheskie problemy gotovnosti k deyatel'nosti. Minsk, 1976.
Kan-Kalik V. A. Pedagogicheskoe tvorchestvo. M., 1990.
Kon I. S. Otkrytie «Ya». M., 1978.
Kuz'mina N. V. Ocherki psihologii truda uchitelya. Psihologicheskaya struktura deyatel'nosti uchitelya i formirovanie ego lichnosti. L., 1967.
Leont'ev A. N. Izbrannye psihologicheskie proizvedeniya: V 2 t. M., 1983. T.1.
Liimets H. '. Gruppovaya rabota na uroke. Ser. «Pedagogika i psihologiya». M.,1975. № 7.
Lingart '. Process i struktura chelovecheskogo ucheniya. M., 1970.
Lomov B. F. Metodologicheskie i teoreticheskie problemy psihologii. M., 1984.
Mirzayanova L. F. Adaptacionnye krizisy, perezhivaemye studentami v period vhozhdeniya v professional'noe obrazovanie i pedagogicheskuyu deyatel'nost' // Psihologiya obucheniya. 2007. № 4.
Nechaev N. N. Psihologo-pedagogicheskie aspekty podgotovki specialistov v vuze. M., 1985.
Osnovy pedagogicheskogo masterstva / Pod red. I. A. Zyazyuna. M., 1989.
Potashnik M. M. Kak razvivat' pedagogicheskoe tvorchestvo. M., 1987 (Novoe v zhizni, nauke i tehnike. Ser. «Pedagogika i psihologiya», № 1).
Proseckii P. A. Psihologiya tvorchestva: ucheb. posobie. M., 1989.
Rubcov V. V. Organizaciya i razvitie sovmestnyh deistvii u detei v processe obucheniya. M., 1980.
Slastenin V. A. Formirovanie lichnosti uchitelya sovetskoi shkoly v processe professional'noi podgotovki. M., 1976.
Yamalov I. U. Konceptual'noe modelirovanie processov vozniknoveniya i razvitiya chrezvychainyh situacii // Informacionnye tehnologii. 2006. № 7.